Magazine
DJane Gaby – almost 25 years of Psytrance
DJane Gaby – almost 25 years of Psytrance
She's an excellent DJ and started DJing on vinyls almost 25 years ago, she played all around the world, including some very remote corners of it, and on the biggest festivals there are, she organized parties back in the 90s, she released quite a few compilations and collaborated with some the scene's leading artists, and yet less people know DJane Gaby than they know some kids who started to make formulaic music 5 years ago and only press play on their computers. We think it has to do with the fact she's a woman. So we're here to fix that – meet DJane Gaby.
While you read listen to Gaby's special Powerheart mix for Trancentral:
Interview with DJane Gaby
Q: How did you end up being a psytrance DJ? Tell us a bit about your journey
A: I was about 16, in the early 90's, when I was the girlfriend of the now worldwide known techno producer UMEK, when I had this super realistic dream seeing myself on stage in front of a massive dancefloor and rocking the crowd. The next day I asked him to show me how all this works on the turntables etc. He basically just pointed at it and I had to figure it out myself. Slowly finding my own way, we started to organize the first rave parties in Slovenia, where I was based. The movement started to grow and in just 1-2 years first gigs abroad rolled in and I experimented with the styles from acid trance to atmospheric techno and all kinds of progressive stuff, as at that time there was not a real trance scene yet, but always with the atmospheric melodic trancey touch, which is my signature sound. After some years I visited my first psy party in Germany and it all became very clear to me. I found the feeling of the music I always felt… Trance! So I run immediately to the first record store I found selling this amazing new style, and bought tons of records. I started the organization "World of Trance" in the late 90′ s to organize the first trance parties in Slovenia, which I ran regularly with international acts. Also had my own Trance radio show to spread this new style and share infos about festivals from abroad, etc.
The scene started to grow. After a while I moved to Vienna which had much more going on and also started to organized my own parties there. The network grew and I started to have gigs all over the world on the biggest stages such as Boom, Ozora, Rainbow Serpent, Vuuv, Sonica, Glade, Fusion and many more.
Q: Is there a psytrance tribe in Slovenia?
A: There is, since I left in the beginning of 2000 many small events happened and still happen today. But I must remind you that Slovenia is a country of only 2 million people, so if events are happening they might go max 1000 people and many smaller family parties for 300/400 in clubs or outdoors, as we have beautiful nature.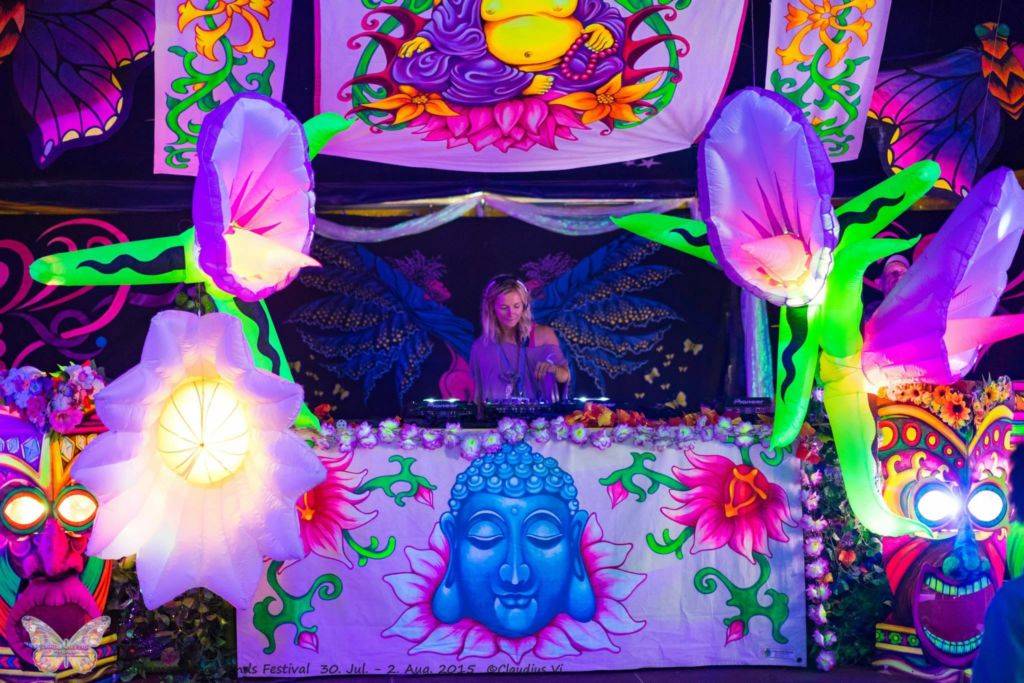 Q: What's being a DJ is all about for you?
A: Well when I started my journey, it was for sure this thrill to share the amazing Music I loved so much, share the feeling and joy. But after more than 24 years doing it you realize there's so much more behind it. The moment you are on stage you step in a role of someone being in charge of many many thousands of people. You are responsible for the energy which will be spread through the music on the whole dancefloor. So basically it's an important job and not just about sharing some fresh tunes. As I am very much exploring as well for over 20 years of my consciousness path, I try to use this important position to spread awareness, good vibes, and good intentions and use the music as a transmitting force. That´s why you can sometimes indeed call the DJ a shaman as well, if he or she truly knows what they are doing. So for me it is much more than just playing the newest stuff or super perfect technique. It is about the energy which can be lead, activated and spread through the tool of sound. So you can feel differences between different DJs who play the same track.
DJane Gaby @ Second Horizon Festival last weekend:
Q: There were quite a few successful woman DJs and producers in the history of Goa and Psytrance, and yet we don't really see women DJs at the forefront of Psytrance like we see in Techno – headlining festivals, defining musical tastes, why do you think it is like that?
A: Well, I must agree on this point and many times I wonder myself. For example, on my last Ozora where there were 100 artists in total on the line up and Nanda and myself were the only females. A compliment or sad? So even if there are some successful women in Trance, I feel they are still seen somehow a bit lower in the huge field of male artists. And still it's a special occasion to have a woman on the line up, even after many years that we are walking an equal path with the male artists.
Q: Is it more difficult to succeed as a woman DJ?
A: I would say yes. Because you are from the start judged by your outside and not just by the talent and knowledge. So somehow first comes up the thought: "oh she is beautiful, did she get the gig for that? You understand my point.. it was.. is always a double proving of your work. But for sure I also saw women using their beauty to succeed …faster …But that was never my path, at that point I am too proud … and would never liked to be booked just for my appearance.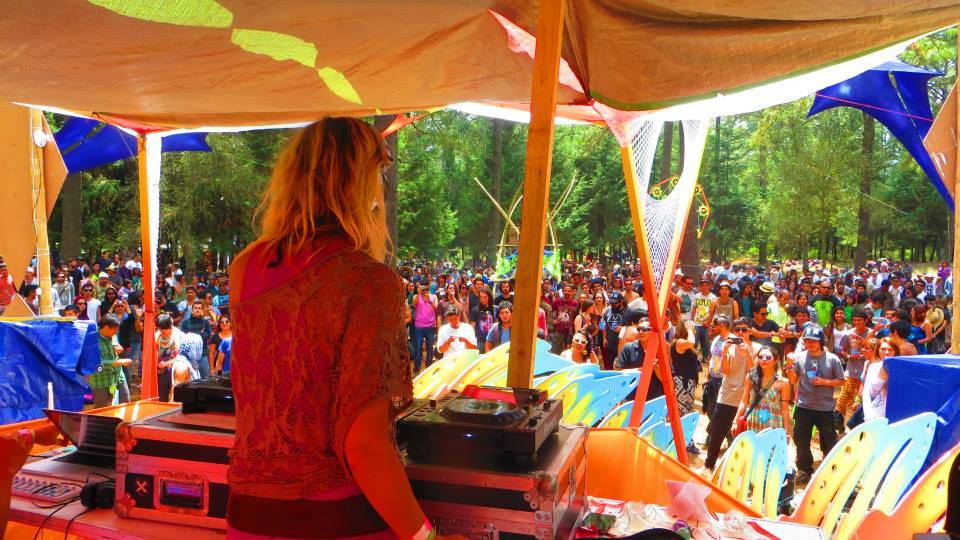 Q: What was the one track that got you hooked onto this music?
A: Omg … that's a tough question because there was so much amazing music and as I mentioned it was a journey of mixed substyles of trance music… But I loved for sure the Platipus and later Spiral Trax labels' stuff at that time …..and till today many timeless tracks there. If I have to choose one i might go with Union Jack – Cactus.
Gaby made for us a playlist of her all time favourites. Play it!
Q: You have been compiling quite a few compilations – an art that is not really being appreciated these days – what do you like about it?
A: Yes indeed, like my Healing Lights series, which just saw the release of the 4th chapter, which is really going well. When compiling I never just collect some tracks and that's it. it's like my sets… telling a story. I try to bring a certain feeling and message into it.
So the tracks are specially produced for this certain compilation, to give it right from the start the possibility to produce something with this kinda feeling and message we are looking for and collect it all into one journey. And all my fans and music lovers know I am known for the brightful uplifting feelings in the music, same as at my sets.
I also love to create special art covers for it, as through this I can can spread the message. Also as an oldschool DJ that started with vinyls, I really love still the idea to release physical CDs ,even if we all know that the world is going digital. But I do it out of passion and not to earn money.
Q: Tell us about your latest compilations
A: This year was very productive for me, as usually I just release one CD per year. Most of the people know my Healing Lights series which is a combination of a progressive psy uplifting journey. But this year I also decided to do a more psytrance compilation for the label Spiral Trax, which is celebrating its comeback. And I was very thrilled to do it as it was one of my favourite labels at the beginning of my psy times and I wanted to give it all my support. I tried to bring in the feeling present when I play my psy sets, which contains for sure some more female energies, and again my melodic uplifting side of the music. The compilation is called Spiral Lights , with artists as S-Range, Sonic Species, Spirit Architect and more, and was released this April and had as well a fantastic unexpected feedback riding up to the TOP3 charts for a long time. Right after that, in May, I released my Healing Lights 4 also on Spiral trax and it also did well at the charts with a beautiful uplifitng psy progressive journey, and with artist as Suduaya, Ascent, Soulearth, E-Mov, Mindlab and more. It´s for sure not the last one. You can find both still fresh on Psyshop & Beatport.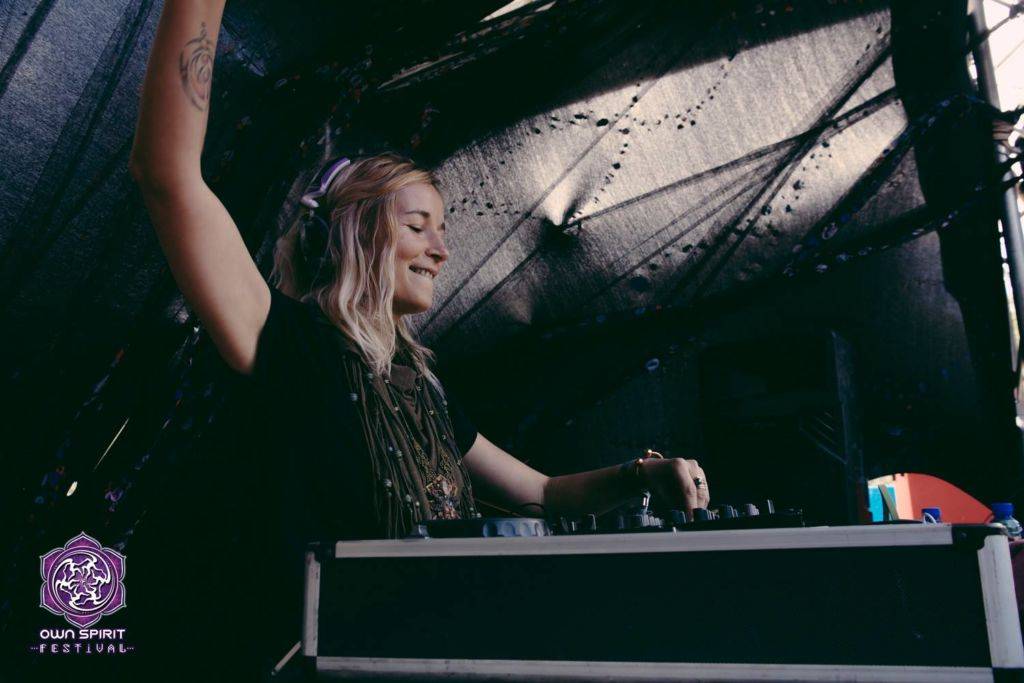 Q: You also sang in some tracks – give us an example – is that something you want to do more?
A: Yes. I am a very creative person who loves to express ideas on many ways. After some experiments in studios of friends came the idea of expressing different messages for the tracks and they asked me if I would like to do it. For example in 2007 with Ovnimoon in the track Into the Light, which was released on my first Healing Lights compilation. But I also love to sing in general, from the spiritual side of things, like mantras etc. and knowing about the energetic effect of it. Mostly these kinds of projects fit perfectly into chill releases which go much more into deep meditative direction and messages. I did so far collaborations with Human Element ,Hux Flux, Ovnimoon, Earthchild, Twin Sonic and Suduaya so far, and as I know myself much more to come and explore with the power of voice.