Shpongle
Are you Shpongled? Are you? Well you should be, at least every once in a while. Shpongle, in case you were occupied in another universe in the last 20 years, is the project of Simon Posford & Raja Ram, two quite incredible people, who make music from another dimension. Shpongle will be defined by many as psychedelic chill project with a mixture of ethnic sounds, but the truth is that while everyone will agree that it is psychedelic music and it's largely electronic, beyond that it really does defy genres and styles. It's just Shpongle music.
Shpongle came to be in 1996 after Simon and Raja met at Youth's Butterfly Studios in Brixton, South London. Simon recalled the meeting in a Q&A in Reddit: "We met at Butterfly studios, enjoying some home-cooked Indian food with the other artists that were recording there. We became instant friends and went to many parties and festivals together, making music under a variety of names. Raj provides the inspiration and running commentary, while I compose all the parts on the computer. It's a winning combination! If I can get him to stop talking for a moment :P"
Shpongle – The music
Shpongle's first track, "Vapour Rumours", was released on TIP Records' "Infinite Excursions" compilation in 1996, and their debut album, "Are You Shpongled?", was released in 1998 on Twisted Records. Then followed 4 more albums and 1 remixes album. A 6th album is currently under construction.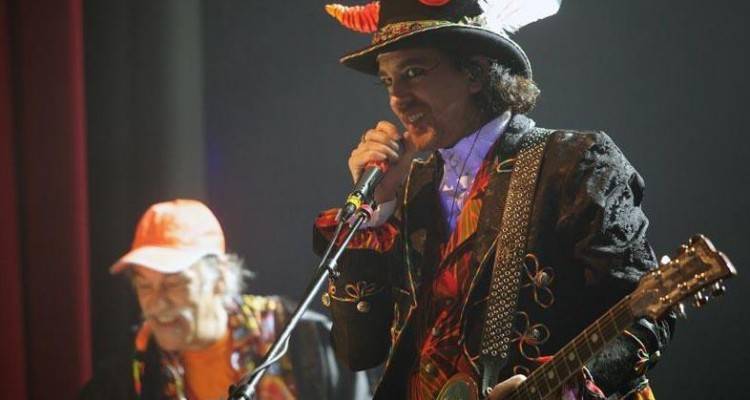 And there's the Shpongle live band – a very special experience that everyone should take part in! With an amazing show in one of the most majestic venues in the world – Red Rocks in Colorado last year that knocked people out and was just released on DVD.
We got for you exclusively from Twisted Records a generous potion of Shpongle's live band show at the Troxy in Brixton, London in full HD. Enjoy:
We can go on about Shpongle, but instead we decided to ask the good people @ Chill Space to tell you their Shpongle story in one long playlist: – they did it pretty much chronologically with many non-album tracks included, in case you missed them. Take a trip into Shpongland with Chill Space:
And to add some quality reading material here are some quotes we collected with Simon and Raja talking about Shpongle:
On how the name Shpongle came to be
"Raj was tripping one day, and he said, "Oh Si, I'm feeling really shpongled." This word was a mixture of a lot of other words that we were using at the time — like "spangled," "stoned," "monged," and "mashed" — and all of these came out as one word: "shpongled." So I said, that's a great word. Maybe we should use that as a band name or track name as it captured the essence of the message we were trying to get across without a tired history of associations and expectations that existing words are weighed down by."
– Simon in an interview for acceler8or in 2011.
On Albert Hoffman and Shpongle
"I remember Albert Hoffman – a friend of mine [Nick – Doof] played him some Shpongle when he was 96 and he said 'I can see why this album is psychedelic because it is like a trip [acid], there's no edges to it.' "
– Raja in an interview for IDM Magazine in 2015
On the age difference between Simon and Raja
"I was flicking through Raj's book of drawings after one session and noticed he'd written: "Sometimes it feels like Simon is my father… sometimes it feels like he's my son." Mentally i'd say we both old souls that are young at heart… on a mental/emotional level, age has very little to do with it…"
– Simon on Q&A on Reddit in 2013
On who wears the trousers in Shpongle
"SI has the trousers, the zippers, the rock n roll look. I wear the baggies and the comfies. We argue and we talk a lot over a very good bottle of wine. He cooks and I wash up. It's like a marriage without the sex."
-Raja Ram in an interview by J00f for Stoney Roads in 2014
On not using samples on Shpongle
"…eventually we realised, 'Wow – everybody is using samples! Let's never use them again…. and only record our own stuff from now on.' "
– Simon on Q&A on Reddit in 2013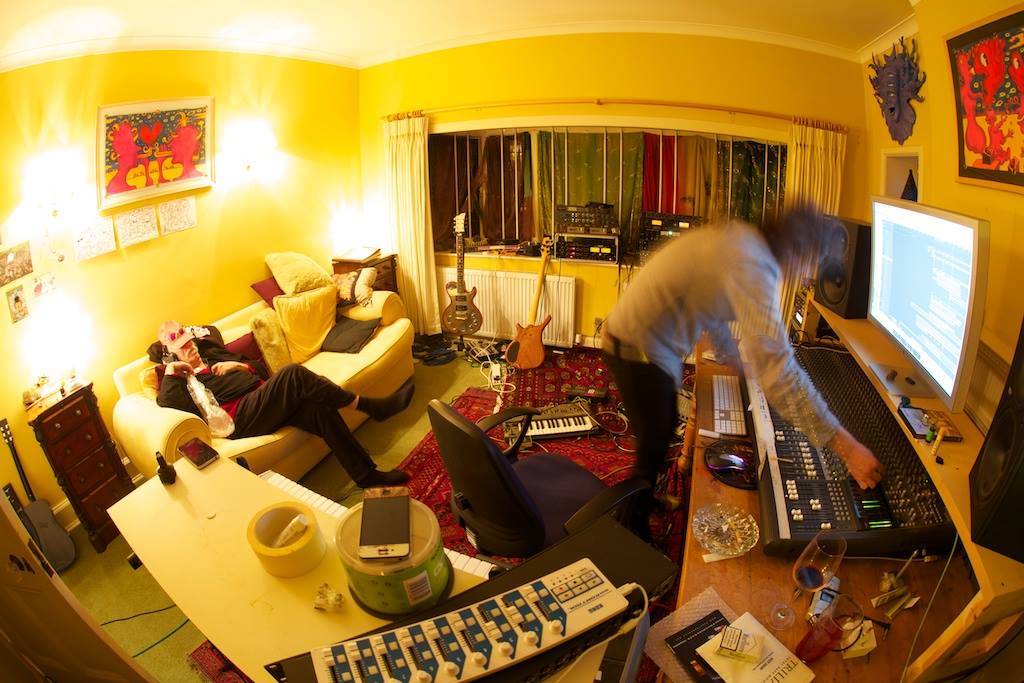 On the the actual work process
"We lock ourselves in the country for weeks to do one track, yes in the same room. I play flute and doodle, Simon works the machines and presses the button. We're always doing it together. I see the pictures of the songs in my head and we follow the internal dream. Sort of auto directed…."
-Raja Ram in an interview by J00f for Stoney Roads in 2014
On the best imaginary Shpongle concert venue
"Machu Picchu would definitely be up there. Outer space too. Possibly weightless could be interesting! Experiencing inner space in outer space."
– Simon in an interview to Spectrum Culture in 2012