Eat Static live modular synth bonanza
How can you sum more than a quarter of a century of being at the forefront of electronic dance music and culture into few lines of text? Merv Pepler, electronic music's favourite alien is a legend. Period. And he plays his music live. Always did, carrying a minimum 20KG of equipment with him all around Earth (and possibly beyond). And Merv, like Merv does, decided in the last couple of years to test the limits again and go full live modular, to the horror of stage managers worldwide probably, and the delight of real electronic dance music fans!
And we bring you a taste of it!
This is a special gig from last year where original Eat Static member, Steve Everitt, joined Merv Pepler on stage once more for a special, totally improvised, fully modular set. What a more fitting place than a small village hall near Peterborough in the UK which, earlier that day, had been the place for the traditional modular meetup that a few underground nerds participate in when they can sneak away from their wives, now and then…
Eat Static were also joined onstage by renegade EMS fanatic Basil Brooks who stormed many a free festival in the old days with his crazy band 'Zorch' and modular female artiste Cary Grace, the new head honcho at Wiard Modular Systems who brought along her custom system to add to the mix..
Merv is in the middle of experimenting and trying out freeform modular set ups as we speak and promises many more gigs like this in the near future…
Gig personnel:
Merv Pepler – Eurorack modular, SH101, Screechertron
Steve Everitt – Vostok, Eurorack percussion, Octotrack, Arcade manifold
Basil Brooks – EMS synthi A
Cary Grace – Wiard modular, voice
Hosted by Ross Lamond of Lamond Designs
Recorded and filmed by Divkid Ben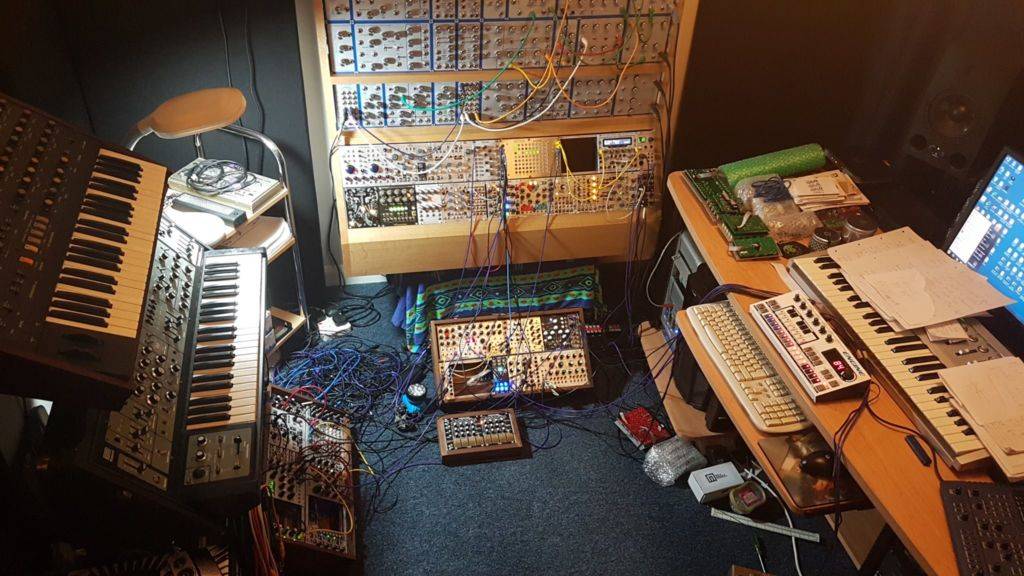 The Eat Static Modular Lab
Eat more Static:
https://www.facebook.com/eatstatic
http://www.eatstatic.co.uk
http://eatstatic.bandcamp.com
Check bits from Eat Static live set @ Ozora Festival 2015: