Looney Moon Decorations
Looney Moon are comprised of a small team of friends who love to create artistic installations in harmony with the beautiful of space around them. Looney Moon is very much the result of Marek and Roberto's lives..
The Looney Moon story began in 2004 when Roberto a.k.a. DJ Fog together with a couple of friends, got inspired by their festival experiences around the world and created "Looney Moon" as organization of psytrance parties in Italy. With the time the size of the parties was growing together with the local scene and the group gained experience with the music and event production. Few years after this, the guys created Looney Moon Records.
Marek was involved in event production, art and music for many years. He always took care of the graphic part of it, eating Photoshop for breakfast for 15 years. During these early years Marek was still studying at Turin's University and enjoying the party scene as a dancer, getting slowly into closer relationship with Roberto and the Team.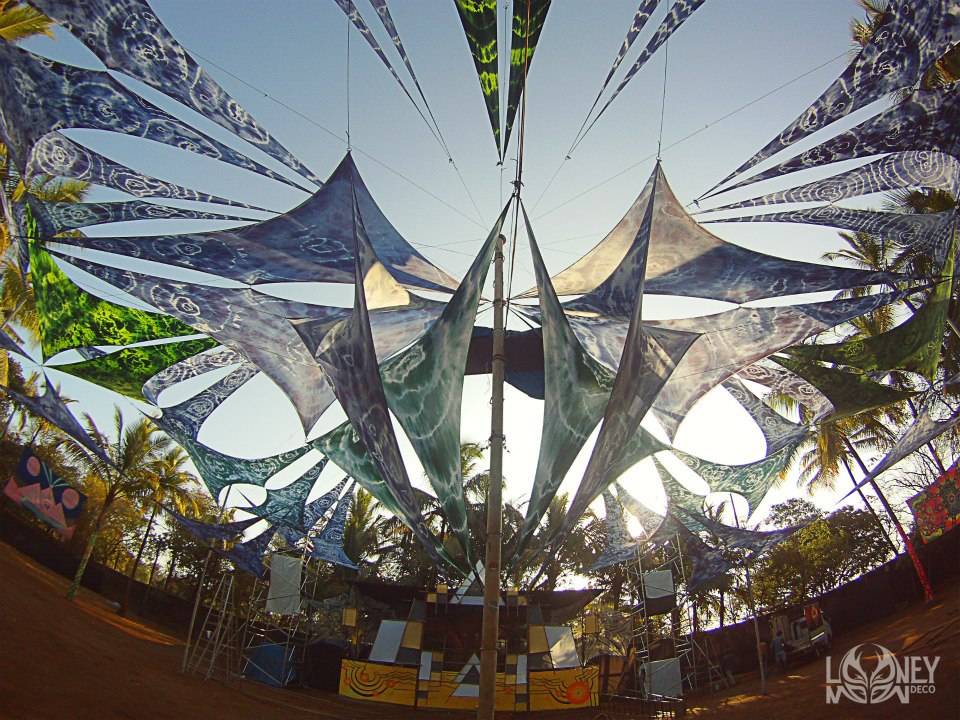 Looney Moon Decorations – The later years
In 2008 Marek graduated and just few days after met Roberto again through common friends and decided to start working together helping with the parties. The two creative minds got in synergy very fast and the result was a fast growing of the Looney Moon parties in Italy, supported by the solid work of the record label. Till 2010 their events were mostly decorated by Nico Atlantix and Superfluo, pioneers of the lycra installations in Italy. Slowly slowly, helping them setting up, the guys' skills got better and they developed their own taste and style, and they started to do the decoration for their parties on their own. They started to collaborate with many international decoration teams, and Marek's design style started to take shape.
Looney Moon Decorations – 2012 and beyond
From 2012, after a great summer around the festivals, Marek and Robi started to be residents in Goa during the season. In Goa parties are happening almost every day, and all of them were in need of decorations. In those years the level of the music quality in Goa was already very high, but the artistic and decoration side of it was just embryonic. So the guys started to work almost daily setting up the Looney Moon Decorations. Sometimes they had to remove the lycra from one venue in the morning, go to have breakfast and then straight to the new venue for set up the next party. Since they didn't have too much lycra at that time, they had to be creative making it look nice and different every time. They say this was a very good learning process for them, as there can't be worst working situation than in India in that time!!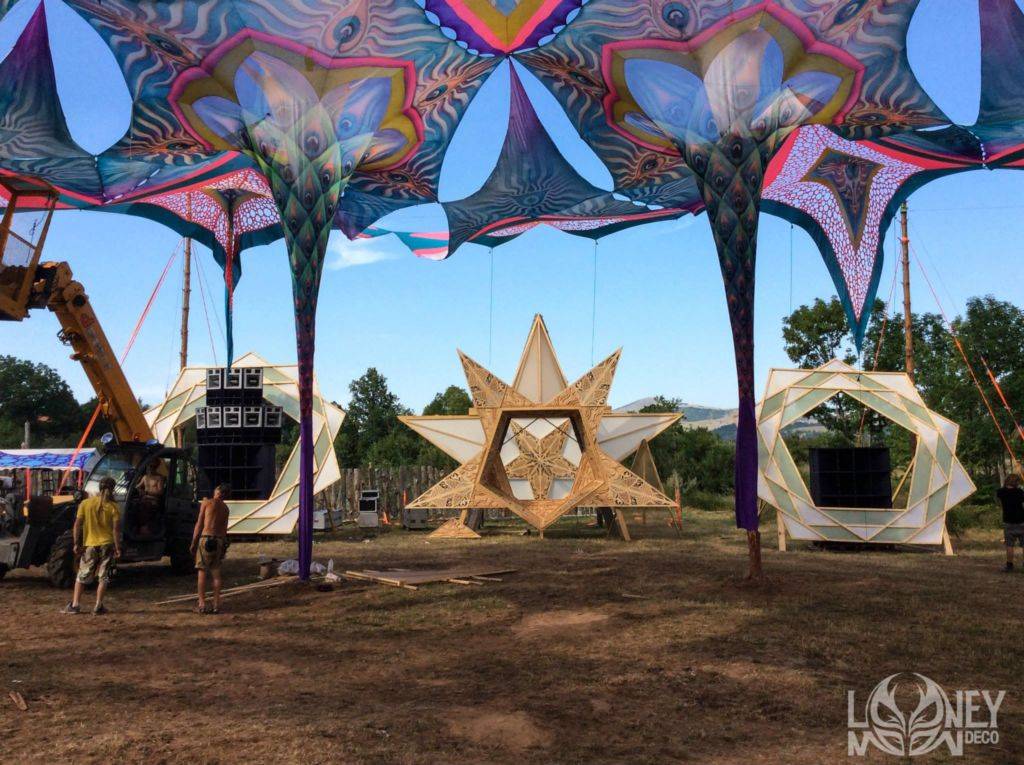 Back in Europe their decoration started to get noticed first from other Italian organizer and then in the countries around. Since 2013 Marek's crazy mind found his playground: printing high definition designs on lycra. High quality images on lycra worked the best for them, combining the limitless 3D effect of the stretchable lycra with the digital design of visionary art.  Together with the lycra work they started to design stages, from few sticks of bamboo all the wey to huge festival main stage DJ booths. The full details available now with the cnc and laser cut give them the same ideal process that theyuse for the lycra: From digital designs to real production.
Looney Moon Decorations – Going global
Since 2013 Looney Moons have been doing decorations for festivals, among them: Hadra Festival (France), Doof Festival (Israel), Momento Demento Festival (Croatia), Freqs of Nature (Gemany), Ozora Festival (Hungary), Lost Theory Festival (Croatia), Summer Never Ends Festival (Switzerland), Samsara Festival (Brazil), Ayata Festival (Turkey) and others.
Check below some of the amazing and creative stages and decorations designed by Looney Moon Deco: