Magazine
Organic Soup Interview – It's Not About Food!
Organic Soup Interview
Organic Soup is releasing his third album – Technological Boom – at Up Records, so we chatted with him a little about his music and the new album and as usual there 's a mix and a playlist included!
While you read listen to the special album mix made for Trancentral:
Q: Who is Organic Soup? What does the name mean?
A: Organic Soup is me – Ariel Orshansky. At first Organic Soup had 2 members, me and my friend Ido Gold, who left the project in 2015. We found the name together when we were at high school, we found it in a Biology book and it sounded catchy to us.
After some time we discovered that there is a theory about the creation of the universe which is called 'The Myth of Organic Soup'. We liked the creation motif so we kept it. It's not about food! Anyway, it helps party promoters to get creative when they present their line ups, so I'm happy with it 🙂
Q: Do you remember the first party you went to? Were you hooked at once?
A: The first big party I went to was the "Raveolution" festival at Nizanim beach in Israel. It was in 2004 and I was 16 years old. I can say that I knew that I would be hooked because I've listened to all sorts of electronic music since the late 90s, and I've already known most of the artists and their tracks and just waited to hear them live on the same stage. Some of my favorite artists at the time were playing there, like Infected Mushroom, Astrix, Talamasca and Raja Ram. Me and my friends even took pictures in the backstage with Duvdev and Skazi and it was very exciting back then.
Q: Tell us a bit about your journey from that party to produce music as Organic Soup.
A: It didn't take so much time after the first parties I went to as a raver to get to the decision to start producing music on my own. When I think about it, I've been playing a lot with music since I was a kid. From making mixes with tape cassettes to playing with some non professional software just for fun. When my partner back then and I listened to the track "Daft Punk – Aerodynamic", we decided to make a psytrance remix for it, and it was the first track that we've finished. I think it was on the summer of 2004.
Organic Soup made for Trancentral a playlist combining some of his own favourite tracks with some of the music that influenced him, enjoy:
Q: New album – Technological Boom! – tell us about it.
A:  The new album "Technological Boom" is the third full album by Organic Soup and the first one I did as a solo artist. In the work on this album I have tried to push my limits to the highest level I can, and to produce tracks that could be remembered for a long time.
The album has an old school vibe with contemporary production, I tried to use diverse musical scales and elements in each track to make them unique, but still to maintain the Organic Soup style from previous releases.
The album includes few collaborations, a remix to Digicult and a collaboration with the Dub artist "The Dragonfly Effect" with a dub remix I made with him to a track from my previous album. Also participating is guitar player Dudy Dayag in the track "Hybrid".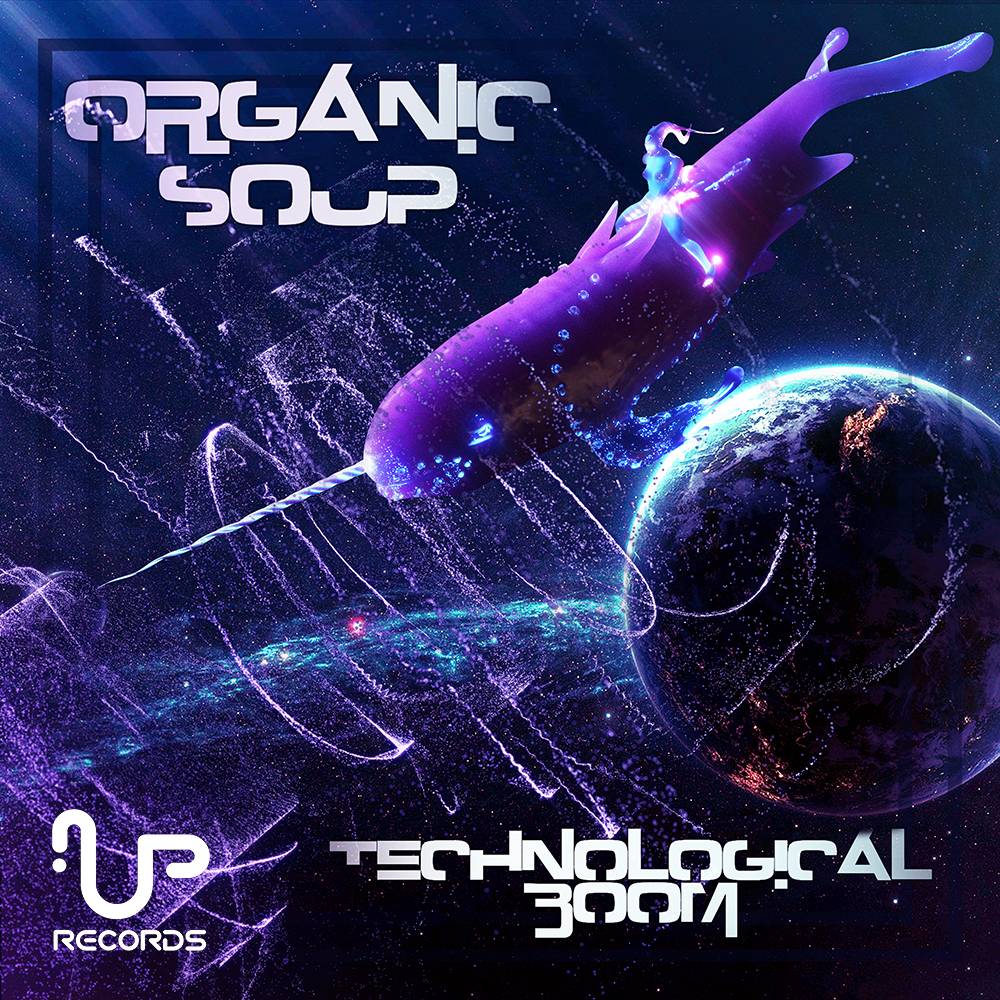 Q: You are based in Israel and releasing it on Australian label, Up Records – how was the connection made and how was it working with them?
A: Iv'e known the label Up Records especially because they have released stuff for Upgrade, so I knew they have good reputation. I know Raz from 'Upgrade' for a long time and he told me good things about the label, also I knew he does mastering for their releases. The manager of Up approached to me on Facebook maybe a year and a half ago when I have already decided that I'm making a new Organic Soup album and that it should be the biggest release I made so far. It didn't take long and I decided to release it there after consulting with some people, it felt like a nice 'home base' and they are supporting me worldwide despite the large distance between Israel and Australia.
Q: Future plans for Organic Soup?
A: My plan for the near future is to finish a new EP I'm working on, and a few more collaboration tracks with other artists.
Hopefully they will be released during the next winter. In a few days I will upload a new set for free download on my Soundcloud with some surprises.
And the most important plan is to continue playing my music in new places around the world and to make as much people as possible dance!