XV Kllist & Rocco
XV Kilist & Rocco are back with a new album – "We're Gonna Need a Bigger Boat" on Iboga Records, and since they've been away for quite a while, some of you might have missed their music and important roll in the development of progressive trance. So we chatted with the guys to catch up on things, and as usual there's a lot of good music involved.
While you read you can listen to a full playlist of the new album here:
Q: Who are you guys?
A: We are: Kilian Horvath (XV Kilist) and Ramon Rocchinotti (Rocco), citizens of the world, living in Switzerland.
Q: You've been around for a very long time, releasing music since the end of the last millennium, yet you seem to keep quite a low profile? Why is that? Do you like it like that?
A: Well, life made its moves in the past and after our last album, things got out of track a bit, musically and personally too. We've never stopped, but we also did not dived deeply enough into it anymore. There are quite some nice techy releases under our other project called "The Flying Mustards" though, check it out. Still it was always the wish to get back on track. That was the point where Emok's Idea of making an album came into the game around 2 years ago, guided us to new motivation and finally to a new album for the trance movement and into the Iboga crew. Do we like it low profile ? Well uhm……no. Hahahaha. We definitely working on touring again.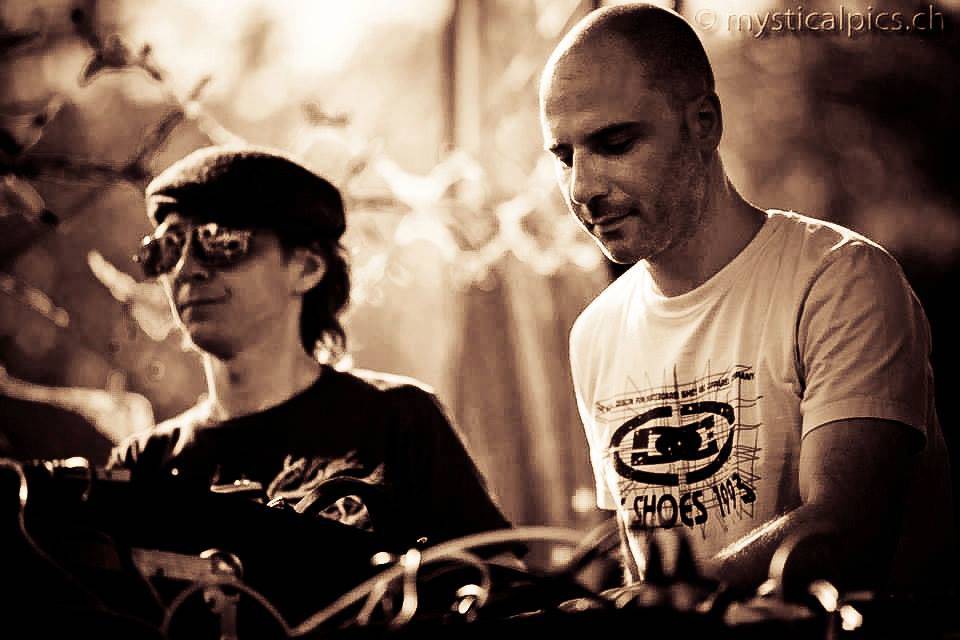 Q: What is your musical vision? You used to be associated with the word "minimal" at the time – does that still hold?
A: Kilian: I'm actually lost when it comes to speak about a musical vision. The music I make, comes through heartmindhandstudioequipment into this world. I don't know what I'm doing until the track is done let's say 70% (That never changed over the years). Once I'm there, I start building definite ideas of how to finish it. Too many visions are blinding and blocking me. The point where I know "that's it. It's done", is always very clear, so I just keep on doing it till the end. It is always a gift. Call it minimal ? Trance ? Techy ? Well, just as Emok says: "There are only two types of music, good & bad, and I'm the fucking judge". Well then…… choose.
Q: New album – tell us a bit about it.
A: We actually had the album done a year ago but it wasn't satisfying enough, so we decided to give it another year. Man, that is the longest project we've (for)ever been working on. A true odyssey.
We tried to make something what works on the trancefloor. This is challenging in a good way these days because you have to follow a formula a bit. I think we made a good mix of formula-following and giving a shit about it. We love small details in the music. We love when music can breath, having enough time and headroom to evolve but still kicking. Deep, Funky, lot of faces. Hope you like it.
New DJ set from the guys recorded especially for this interview:


Q: Weirdest thing that ever happened to you on the road?
A: Ramon: What happens on the road, stays on the road hahah 🙂
There was a gig in a Club in Freiburg Germany, 11 Years ago. Kilian was knocked out by the bouncers fist, broke his nose to pieces and ended up 3 days in hospital.
Kilian: "Ramons face when he picked me up on monday: priceless !"
Q: What ever happened to your label – Traktor Schalllabor? What does the name means? And talking about names what about XV KIlist & Rocco?
A: Traktor Schalllabor was never just a label. It is our Studio, Label and is the name of our company. Our active Label work is sleeping for now. Anyway, it still exists and you never know what the future will offer you but our focus these days is on producing music.
Traktor means Traktor (no, Traktor the DJ software was not invented back then when we chose the name). We chose traktor cause we're living in the countryside. Schalllabor means "Sonic Laboratory".
XV Kilist & Rocco has no meaning. "XV" actually was chosen instead of "DJ" cause Kilian's first gig on a party was a live act. He was not DJing at the time and they didn't want write DJ Kilist on the flyer. So I told them "write XV instead if that's the point". Kilist because I thought it sound cool. Rocco stands for……….. c'mon, everybody knows Rocco right ? hahahah. Just kidding, Rocco comes from Ramon's family name "Rocchinotti". His Italian friends called him Rocco back then.
Check this playlist compiled for Trancentral by the guys, taking you to a journey through their music starting with the new album and going to the start of their career:
Q: Future plans?
A: After the album we like to focus on making some fresh singles, remixes, collaborations. Lots of plans with great artists are already real. Also we work on touring again more frequently. If that all fails, we'll give it another try hahaha. See ya outhere. Keep it real !