Come in peace: Interview with Talpa about his fresh released remixes pack and more
Come in peace: Interview with Talpa about his fresh released remixes pack and more
Talpa released a remix package on his home label TesseracTstudio, compiled of 2 massive remixes he made for "Liquid Soul vs Zyce ft Solar Kid" and for "Zyce & Aquafeel – Dark Side".
The first is a groovy progressive tune, with tons of crunchy psychedelia for your head. Around 2 minutes inside the track it gets intense, with a powerful & driven bassline, only to lead you back to a more subtle progressive place later. It`s good remix that keeps surprising you all along.
The 2nd track on the release is Talpa`s remix to "Dark Side" by Zyce & Aquafeel. This one is, unsurprisingly, a darker night-time tune, featuring deeper bassline, and somewhat misty melody and a spooky speech. The track`s vibe and musical tune are lower, giving you the feeling of dancing somewhere in the forest.
Talpa is Goran Juric, a Serbian psytrance producer. He produces progressive psytrance, with touches of Dubstep, Bass and Glitch, creating his own unique sound & style. Goran is also one of the managers of the Serbian label TesseracTstudio, together with Dalibor Delic (Flegma). The label focuses on Progressive trance music, releasing some hits like Zyce remix to the epic The Droid Who Saved The Queen by Sub6, Violenty Happy by Talpa, and more.
We set down With Goran of Talpa for a nice chat about his project, his latest release, TesseracTstudio and the flourishing Psytrance scene in Serbia.
Q: Tell us about yourself
A: My name is Goran, and I come from Serbia. Iv been producing music almost 20 years. I consider myself pretty chilled person and that's why people find hard to connect me with my music. Some people imagined me as a freak on LSD 24/7. But in reality, I am completely opposite, especially when it comes to drugs… Unless its sugar and chocolate :))
Q: Which one of your gigs you  the most enjoyed recently?
A: lately, I was enjoying smaller parties. Overall I enjoy them more cause it`s easier to connect with the crowd. Universo Paralello was also a special event, it`s always a nice experience when u party on the beach knowing that at home it's really cold 🙂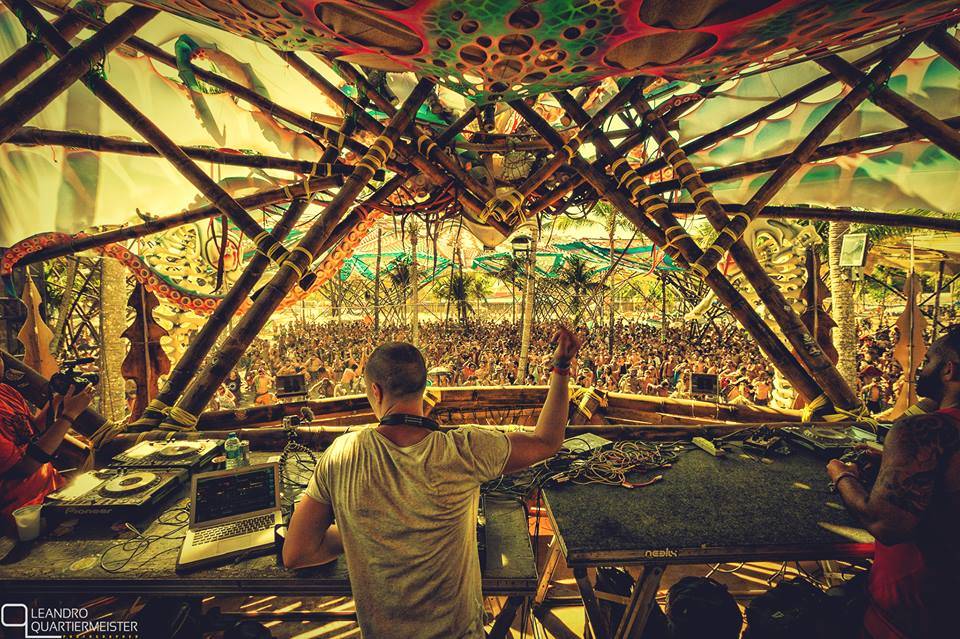 Talpa @ Universo Paralello
Photo by Leandro Quartiermeister
Q: You part of the flourishing Serbian psytrance scene. How can you describe the Serbin style? 
A: Serbian style is mostly psy progressive. Most of the artist are part of tesseract crew. Some of the artist are part of other labels like Iono or Iboga, but they also fit to this genre. Most of them are known worldwide and they are getting bigger and bigger which makes me really happy!
Q: Can you tell us about the new release?
A: My new EP features remixes for a couple of tracks from Zyce, Liquid soul, Aquafeel and our rising star Solar Kid. Both tracks of mainly focused on Psy-progressive with some typical Talpa twists. "Dark Side" was remixed more then 2 years ago and it was sitting on my computer waiting for the right time to be released, So I guess people are already familiar with it. The other remix I did for "We Come In Peace", is a fresher and recently done. Already been played worldwide by many DJs and got nice response from the crowd 🙂
Q: You started to produce  more Progressive style during your career. You can tell us What draw you to  this type of psytrance?
A: Well yeah, we all tend to change from time to time. I guess my music was too weird before, and it started to feel very weird for me too. I felt like i needed a change and to make things a bit slower but not necessary less dynamic.  I might have lost some old fans but i definitely gained a lot more new ones and that makes me really happy.
Q: What is coming up on 2016? Gigs, releases, etc.
A: Cannot say that I plan anything special or have any sort of surprise when it comes to releases. I plan few more EPs, some collaborations, and that's pretty much it. As for the gigs, summer is coming up and ill be playing on some festivals like Ozora, Psy Fi, some gigs in Mexico, Brazil, Australia and Europe of course. Last year was super busy for me so I'm gonna play a bit less this year cause I'm not getting any younger and traveling around the globe is quite exhausting job.
Q: And finally, which album, would you take on a lone island (one psytrance one general)
A: I love music overall in many different styles. I cannot say that I would take any psytrance with me. But I would take an album of Younger Brother or some selected tracks from Trentemoller! 🙂