Ever seen Super – Mario on Acid? New release + an interview with Aerospace
Ever seen Super – Mario on Acid? New release + an interview with Aerospace
Ever seen the Mario Brothers on Acid?
"Aerospace – Super Mario On Acid" EP released on Digital Nature.
The EP feature 2 Progressive tunes by Aerospace (aka DJ Guyshanti): "Super Mario On Acid" & "Go With The Flow". With tons of groove & melodies, the tracks offer an Old-school Progressive atmosphere. Listen to it here:
Super Mario On Acid
Go With The Flow:
Guy Youngman (aka DJ Guyshanti, Aerospace) from Nahariya, Israel. Guy is a talented music producer and the owner of Digital Nature Records. As Aerospace, he produces melodic Progressive trance, with an old-school touch. Not adhering to current trends, Aerospace produces roomier progressive tunes, with emotional melodies and a strong focus on the groove rather than on dancefloor highlight moments.    
Guy is one of the most experienced Progressive psytrance producers & DJs. He played a major role in the blossom of the Progressive scene in Israel, a scene that produced some of the biggest Progressive artists like Ace Ventura, Captain Hook, Perfect Stranger & more.
Interview with Aerospace
We had a little chat with Guy about his fresh Aerospace release, Digital Nature Records, and the roots of the Progressive trance scene in Israel.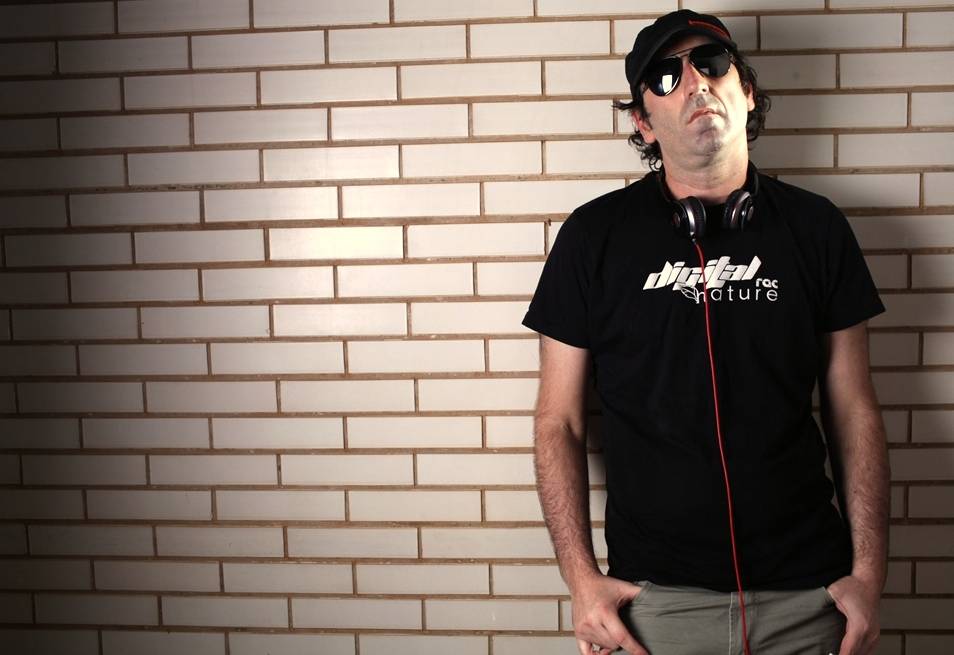 Q: What inspired you to become a psytrance producer? Can you tell us a good story about a moment that you decided that it is your dream?  
A: I've been a rocker all my life but somehow in 1994 I got hooked on Trance music which was completely the opposite of what I loved to listen to before, but somehow it seemed to be a perfect inversion of sounds from rock and blues, and made complete sense to me for reasons which I don't fully understand to this day. After finishing university in 1997 and returning to Israel after 3 years in the UK, all I knew was that I wanted to make music. My first thoughts were of getting my old band back together but then I remembered the fights and the logistics of getting 5 people together for rehearsals so this idea was abandoned after a few "I don't want to play with this dude ever again" phone calls…Faith had it so that a friend has bought a Roland 303 Groovebox and called me to help him figure it out. He quickly got interested in other toys and this 303 ended up in my house. I made my first tracks on it just trying to understand how the hell do you make this music, a process which took about 6 months till I totally exhausted the Groovebox's limited but somehow magical capabilities.  
In 1998 I formed Evil Drug Lords together with a producer friend Dudu Atrash. We basically combined our 2 studios and began producing and releasing material which we later discovered was quite innovative music.
During that time it had dawned upon me that I have to learn how to DJ if I want to perform my music so I took my first steps in playing raves in Israel as DJ Guyshanti and by 2002 I was one of the busiest Trance DJs in Israel playing 60 gigs a year and hosting a weekly trance radio show on one of Israel's biggest stations. The DJing success was something that took me by surprise and is something I still enjoy immensely to this day. It's an amazing feeling to hit the right track at the right moment and make people go crazy, and take crowds on long musical journeys.
Listen to Aerospace LIVE set @ Universo Paralello Festival 2012:
Q: How did you developed your sound, or style?
A: I got into progressive trance from its very first steps in 1998. We called it Minimal-Trance, most of it was coming from Sweden, Denmark and Germany and I tried to collect every track I could find that was "Minimal", from pioneers like Atmos, Noma and Son Kite to name a few. Back in those days it was also the early days of Full-On trance music, and the demand was for full energy 145 and higher bpm range music. But I always combined tracks of the Progressive-Minimal style in my DJ sets to create peaks and drops and to achieve more complex musical journeys. In the studio we were also influenced by the more minimal approach and tended to make "purified" music, using just the bare necessary essentials to make our tunes. As this style developed, the genre of Progressive trance was born and as a whole our sound became a blend of influences from both directions – the Israeli psychedelic Full-On energy fused with a minimal groove oriented approach and minimalistic European melodic ideas rather than Eastern classic trance instrumentations.
In 2004 due to various personal reasons Evil Drug Lords was over and I began my solo project Aerospace. This time I was focused on the sound I want to create from the very start and my vision was to take the bit from a Full On track – just before the big break, when the groove changes from running wild bassline to groovy "dam da da dam"- and stretch it to a full length groovy progressive track, in the 135-140 bpm range and fuse it with Israeli Full On style breaks and build-ups to create a more aggressive, funky and powerful style of Progressive trance then what was the usual norm of the genre at that time. By the time my first solo album Earth came out in 2006 I had this style maximized and perfected. The response the Earth album got was globally amazing and was widely influential on the sound the genre took in the years to come, even though in the beginning in I was hugely accused by prog purists of "fullonizing" the genre 🙂
Q: You have been part of the psytrance culture for so many years, you probably have some thoughts about the evolution of the genre throughout the years. Can you share some of them with us?
A: I still remember the days when we referred to all trance as being one of 2 kinds – Day tracks and Night tracks. The Day tracks were what we today call Goa Trance and the Night tracks is what we call Psychedelic Trance. As with all kinds of music it diversifies with the years, producers and musicians stretch the envelopes of the styles and create sub genres, it's a natural process and I think it's amazing to be a part of an evolving stage in musical history. Trance music has now celebrated its 25th birthday so I guess that like in rock it will continue to diversify into more and more sub genres, and sub cultures like what happens with the Dark/Hi Tech scene which is almost a separate entity to the mainstream Trance movement but an integral part of it nevertheless.
Watch Guy & Ryjiy blasting it on Underground Team party last summer in Israel:
Q: You are considered one of the pioneers of the Progressive scene in Israel, together with Yuli Fershtat (Perfect Stranger), DJ Nadi and others. What sparked the Progressive scene in Israel?
A: I think that at some point in 2003-2005 there was a group of Israelis which basically got fed up with Full On trance. We were like a small cult that wanted to do something different, more minimal, more emotional, deeper, slower and groovier than the usual "Israeli Sound". The group was consisted of producers like Yuli Perfect Stranger, Yotopia, Lish, Etic and myself and DJs such as Nadi and Huda G, and we really felt that we were educating the people to experience a different kind of trance and opening their minds to new possibilities. The Progressive scene in Israel was greatly helped to become a noticeable phenomenon with the amazing 3rd Empire series of pure Progressive parties which gave us an amazing stage from which to bring this new sound to masses of people.
Q: What was the scene like in those days?
A: The scene in Israel in those years was dominated by Full On trance. There were lots of underground parties and the scene was much less "professional". The evolving Progressive scene was trying to bring back the spirit of the original trance parties of the 90s and has managed in a large extent to bring many people who got bored from Full On and everything it was associated with, back to the scene.
Q: It sounds like you refuse to adhere your music to the current fashion in the progressive scene. How will you describe your musical style as Aerospace?
A: I try to practice what I preach when I do trance. Over the years I tried experimenting with every possible trance soundscapes and in the end I always return to the true-trance, melodic, aggressive Progressive. Sometimes it's more twisty, sometimes more groovy, sometimes I do experiments with innovative melodics and sometimes I do straightforward trancy melodies to achieve the real trance feel I'm always looking for together with trying to keep an open mind to new influences and sparkle the music with a sense of humor.
Listen to Aerospace last album:
Q: What can you tell us about your new release "Super Mario On Acid EP"?
A: It's coming out on Digital Nature Records on the 11th of January, it's an EP with 2 brand new tracks, the title track Super Mario On Acid is a bit of a crazy tune with a few very wild parts, a very twisty pumping middle and a surprise in the shape of the classic Super Mario game tune in the build up.. It's a must hear to understand how it works but from playing this track in the past few months I can tell you it breaks the dancefloors every time. The B Side is a very groovy track called Go With The Flow, and as its name suggests it's a "flow" piece, smooth and hypnotic with some uplifting melodic ideas and a super groovy bassline, very fun to play in afternoon outdoor parties. I want to thank Alex Waserman for the trippy artwork.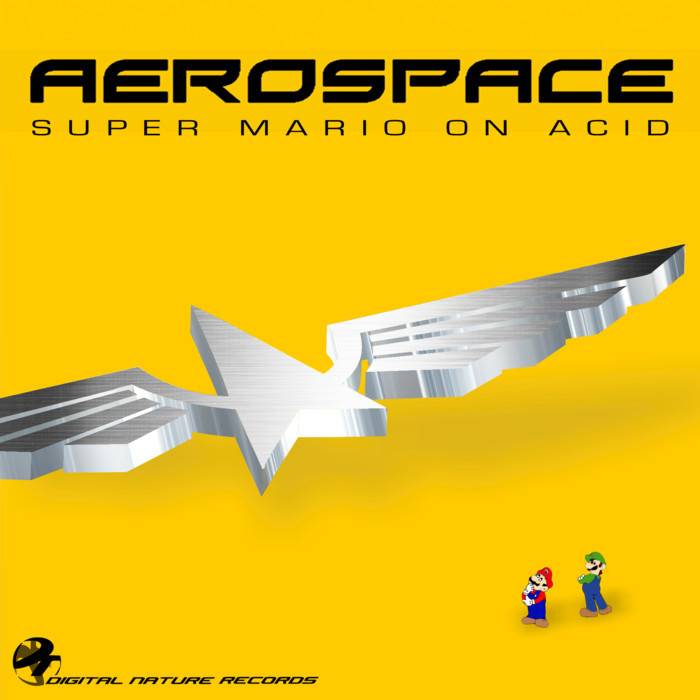 Q: You were part of the trance culture for many years before you decided to start a label. What made you go this way?
A: I have always been interested in the "business" side of music, and for years I was teaching producers and then sending them to release their tracks on labels that I was releasing on. In early 2010 Etay (Etic) came to me with the idea to team up in opening our own operation and create a label that reflects our taste in music, for ourselves and for other artists and DJs who share our vision. Which we did 🙂
Listen to Aerospace show on Digital Nature podcast:
Q: Tell us about Digital Nature Records? Artists, releases, musical line…
A:DNR is now in its 6th year, we have released over 130 releases and looks like by the end of 2016 we will be well over the 150 mark. We release mainly kick ass progressive trance from artists such as Dual Vision, Entropia, Multiphase, Atom Device, Sonic Sense, Electit, Echotek, Perceptors and many more. Our artists come from all over the world and we are very open to new talents who send us music. We listen to all the demos we receive and on many cases we work with the artists to improve and perfect their sound and tracks to maximum effectiveness.

Check out the latest compilation released on the label, "Sensation", compiled by Sonic Sense:
Q: What are the label's plans for 2016?
A: Our goals for 2016 are modest – to release the best music and lots of it 🙂 We get sent so many demos and the artists we work with create loads of tunes so looks like for the majority of 2016 we'll be releasing something new every week.
Q: What do you listen to when you're looking for muse?
A: I don't. I just take a break from whatever it is I'm doing and the muse appears back next time I'm in the studio. Writing trance music is like creating an abstract painting – one line leads to the other and ideas flow during the writing process itself. For me muse comes and goes in direct correlation  to the amount of time I spend on writing trance… so in the times that I find myself bored from making it, I take a break for a few days, go to a party and get some energy back in the old batteries for the next sessions.
Q: And finally, what psytrance album would you take to a deserted island?
A: I can take only one? Union Jack – There Will Be No Armageddon.   
It was the first ever trance album that I truly loved every minute of, and is still my favorite