An interview with Eyal Yankovich – the man behind HOMmega Records
An interview with Eyal Yankovich – the man behind HOMmega Records
HOMmega is one of the longest living psytrance labels, and through almost 2 decades of releasing psychedelic trance always managed to remain relevant and influential. The label that started as a young DJ's dream, ventured into many styles, and even invented some of them, amassed an impressive roster of artists, discovering some of them for the first time and managed to survive the massive changes that the music industry went through through its existence.
Many things have changed over the years, but the man behind HOMmega is still there. We hooked up with Eyal Yankovich to get some perspectives and insights about HOMmega.
Q: Can you tell us a little bit about HOMmega? About the label`s management today, and about the differences between nowadays and, let's say, 10 years ago?

A: The label exists almost 20 years now. Definitely, a lot has changed since. The beginning was more about CDs. Booking and digital distribution issues were in their infancy, or even prior to that. During that time, CDs nearly got extinct, and digital platform took their place, together with live shows, and that's what we are more focused about these days. The digital platform basically has no limits, and its constantly evolving. Few years ago it was more "Download-focused" today it's more "Streaming focused". And it's interesting.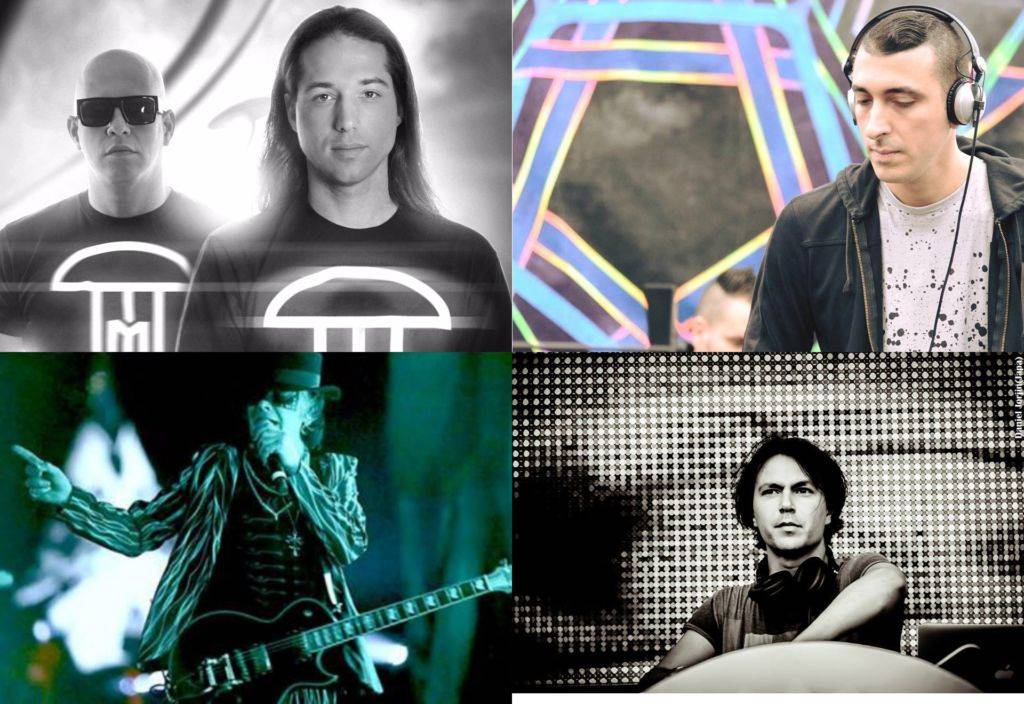 HOMmega Artists (Clockwise from top left): Infected Mushroom, Astrix, Pixel, Juno Reactor.
Q: How did the musical style of HOMmega evolved during those years?

A: Well, the style was always Psytrance. For few years the more commercial stuff we released really worked for us, so we released that too, but only when it was really popular. In the last years we are dedicated to psytrance, and nothing else.
HOMmega staff selected few tunes that represent the evolution of the label`s style. check it out:

Q: To what extent are you involved in artists' musical and strategic decisions?

A: All and all, Hommega`s artists are formed on their style and on their decisions. However, the label has last say on the music. We can decide if we want it published or not.
Q: What is your answer when people say that Infected Mushroom, Skazi and even Astrix are more trance artists then Psytrance artists ?

A: You have to separate the artists. Astrix  is dedicated to psytrance, and totally left any commercial side. Skazi has a huge career here in Israel. And in order to have that you have to get really commercial.About infected: Their move to the USA, together with the fact that they have already released a few psytrance albums, allowed them to explore other genres & styles, and they did a pretty good job at it. I am very happy to say that Psytrance is again very relevant for Infected these days, and their next album will be a Psytrance album.
"Do you hear me, you PSYCHO?". When Infected Mushroom produce psytrance:

Q: Infected are signed on Dim Mak Records, Steve Aoki`s label. How does it work? How does the work is divided between the labels?
A: It depends on the release. Releases that are totally electronic (not psytrance), we will represent Infected only in Israel, and Dim Mak Records will represent them on the rest of the world. Anyway, I believe that releasing non-psy electronic music on Hommega Records won't benefit anyone. When Infected Mushroom release Psytrance, that's when we are more dominant.
Q: Juno Reactor recently joined HOMmega, can you please tell us about your relationship?

A: Juno Reactor is the only non-Israeli artist at HOMmega records. We really believe in personal connection, and we prefer to communicate with our artists face-to-face and leave mails, Skype, etc. Having said that, Ben Watkins, AKA Juno Reactor, is an idol here on HOMmega. I personally was raised on his music; his first album was the first Psytrance album I ever listened to. So, it was always some kind of a dream for me. Today we mainly do Juno Reactor`s booking. He is now working on a new album and a new show, and when it will be ready we will seat down and discuss whether we can contribute to this album or not.
Juno Reactor`s last full-lenghth album "The Golden Sun of the Great East" released on HOMmega:

Q: How do you develop huge brands like Astrix ,Juno Reactor,Skazi or Infected ?
A: It's based on cooperation and balancing the label's knowledge, and the artist's experience, that is based on his traveling around the world and feedbacks he gets. The artist can sometimes feels a need to change, maybe grow up musically, or market himself in other ways, like marketing of t-shirts and other merchandise. Eventually it depends on the artist. Some might want to let the music speak for them; some may want to explore other areas. But basically it's all cooperation between the artists and HOMmega.
Q: It's been over a decade since Pixel`s last album. His released some EPs and singles, that do well and are played often. Can we expect a new album from him soon?
A: There is always something on the way; the question is how long the way is (laughs). Pixel is one of the most talented artists in the label, and one of the kindests too, if I may add. His studio is monstrous, with every possible gadget available. He also produces lots of music, but he is a perfectionist, and he sometimes finds it difficult to say "that's it, the track is ready". I can't promise anything yet, but hopefully, in 2016, he will release an LP or an EP.
Q: Any new artists you want to talk about?
A: On3 is one of our new artists. On3 is Samuel Wallerstein who was part of Black & White. On On3, he produces psychedelic trance, aimed at big dancefloors & festivals. There are more surprises but we can't say anything yet, maybe when the New Year starts.
Q: Tell us a little bit on Xerox – Moshe Keinan.
A: We gonna need a whole interview for that… (laughs)
Q: He was there since the beginning, always re-inventing himself
A: Moshe was one of the founders of HOMmega for starters. He was a partner in the first few years, but that changed and he became an artist on the label. He is one of the most important artists on the label. He is a top-notch producer, and he keeps tagging with different artists, Illumination, Freeman, Mescaline, and he just knows how to get the best out of everyone, and adds his personal touch. He always serves super quality products, that sound like nothing else. In his essence, Moshe is HOMmega.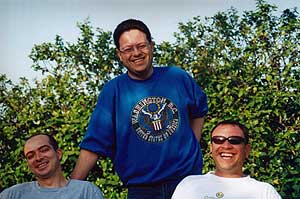 Eyal Yankovich (in the middle) with the original partners of HOMmega Records, Moshe `Xerox` Keinan (on the left) and Meir (on the right)
Q: Can you put your finger on why so many huge artists see HOMmega as their home-label, and for so many years straight?
A: I am happy to say that the artists are our friends.The label is intimate, we are only a couple of people working here. And it works also because the label is successful, so from the artist's point of view, when you have a good place to be in, and a nice person who is also a friend, to keep in touch with, you have no reason to leave. Infected is a good example of how you can still keep business relations and keep the friendship, although the artist choose to go on a different path. we will never block our artists progress.
Skazi is a good friend, Astrix is my brother from another mother, and that's the thing, we are not a label, we are not focused on signing new artists. Even when I see artist succeed in other label I don't go "hmm I wish I have signed him, I wish I owned that music…". I try to focus on the artists that are here, and make them bigger and more successful. If there are little similarities between HOMmega artists. Style-wise, Nobody sounds like the other. If you look at HOMmega like a "musical universe", you'll see that it is a varied universe, with great different styles.
Q: Is there any artist in the scene today that you wish you have signed?
A: Actually when Infected Mushroom were signed on BNE records I used to say that about them, but things work out in a certain way for a reason. But the answer is no, I can't say that on anyone, but I can definitely say that if there is an artist whom I appreciate, in the way he works and the journey he made during his career, it is Yoni Oshrat, Ace Ventura. I can honestly say I wouldn't be sorry if he was signed on HOMmega.
Q: You stopped DJing a long time ago. Why? Is it because you lost interest in it or are you just too busy?
A: I can say I just got tired of it, but I stopped before I got tired of it. I stopped because I felt that I, as a DJ, was used by party organizers to get hold of the label`s artists. I just decided to focus on management and booking. I was invited to play mostly at good parties, and as a label owner I just prefer that one of my artists will play there. If a party organizer will book the entire label so why not? But that doesn't happen anymore, these days party organizers want to have it all, they want variety, they want to book from this agency and from that agency, and get the marketing push from everyone, and they want to feel OK with everyone. So, on 2017 we will celebrate 20 years for HOMmega, maybe than you can expect a set from the label`s owner.
Q: What are the label`s plans for 2016?
A: A new Astrix album will be released. There will be collaborative tracks with Ace Ventura, Ritmo, Tristan & a remix to Juno Reactor. Also we can expect an EP and maybe an album by Infected, An LP by Juno Reactor. Also we can expect a compilation by Freedom Fighters, a new album by Vertical Mode. There is more, but I won't tell you all.
Taste one of Astrix`s samples from his upcoming album HERE