Interview with Yuli Fershtat, the Perfect Stranger
Interview with Yuli Fershtat, the Perfect Stranger
Perfect Stranger is Yuli Fershtat, a unique voice within the Psychedelic Trance scene for almost two decades, who managed along his career to melt boundaries between scenes and genres and gain the respect of the crowds and his fellow producers and DJs as leading figure in the scene worldwide. We asked Yuli to share with us some of his insights and experiences and future plans.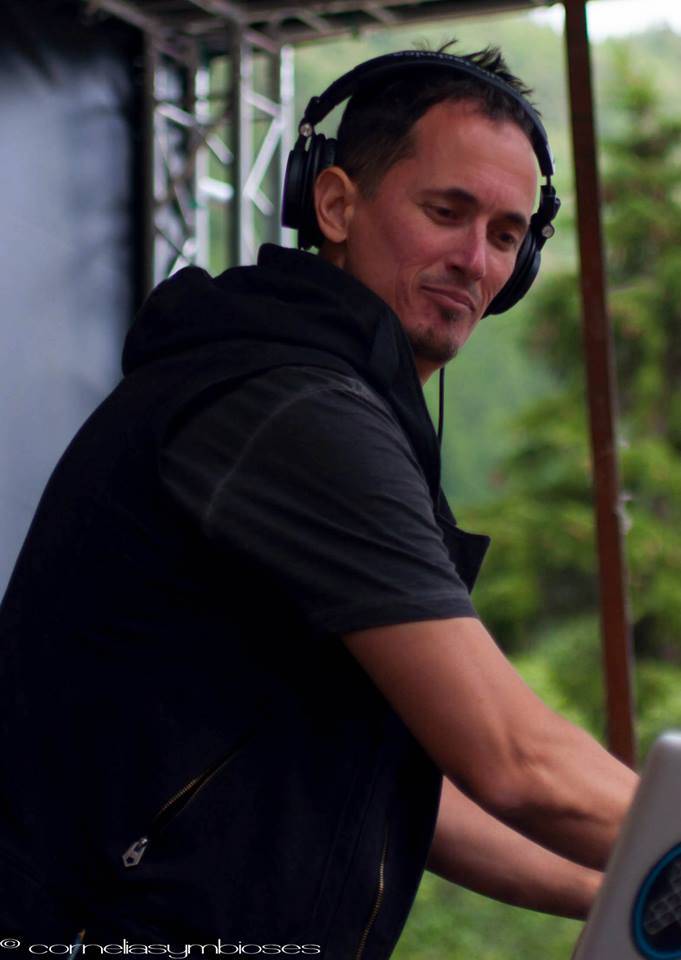 Q: Yuli, with almost 20 years of producing dance music behind you – can you give us a short summery on what it is like as a lifestyle? Is it really all fun? What the positive sides are and what is not so fun about it?
A: It's the best job in the world without any doubt. You meet and learn and meet more and learn more. You eat amazing foods and spend time with outrageously awesome interesting and special individuals. You party quite a lot obviously… and it's never boring that's for sure… But one needs to be prepared that the crowd remains more or less same age group ( or younger ) while you go forward with your age… That means the more the gap grows the more you need to be able to find and live your "inner child" to transmit on the same frequency range. Of course that maturity also spices things up, and experience adds a lot. Flights are a bugger especially the long ones from West to the East ( and vice versa ) I wish they would invent the teleportation pods already.
dancing around the globe in small and large groups of people just makes the planet a better place with better vibes and better future.
Q: Do you remember your first gig? Do you remember how you felt? How do you feel these days before a gig?
A: Yeah of course! It happened in 1998 in the Forum Club Beer Sheva at the notorious back yard there, that was active between 1995 to 2000 more or less. It was pretty off the hook these days at the backyard… I was playing it "hard to get" with the club – I actually honestly didn't want to play at all ( I also thought that my music has to suck balls as I was producing hardly one year… ), but since they asked nicely and few times, I said ok lets give it a go… But on a more serious note, I just understood suddenly that if I want to continue making music in the studio I have no other way but to actually DJ it, cause I would be probably the best ambassador of my own music ( as each and every one of us ). How was it? Like a first sex. It was over before I could notice it was happening ( and I played 90 minutes!!! On DATs!!! )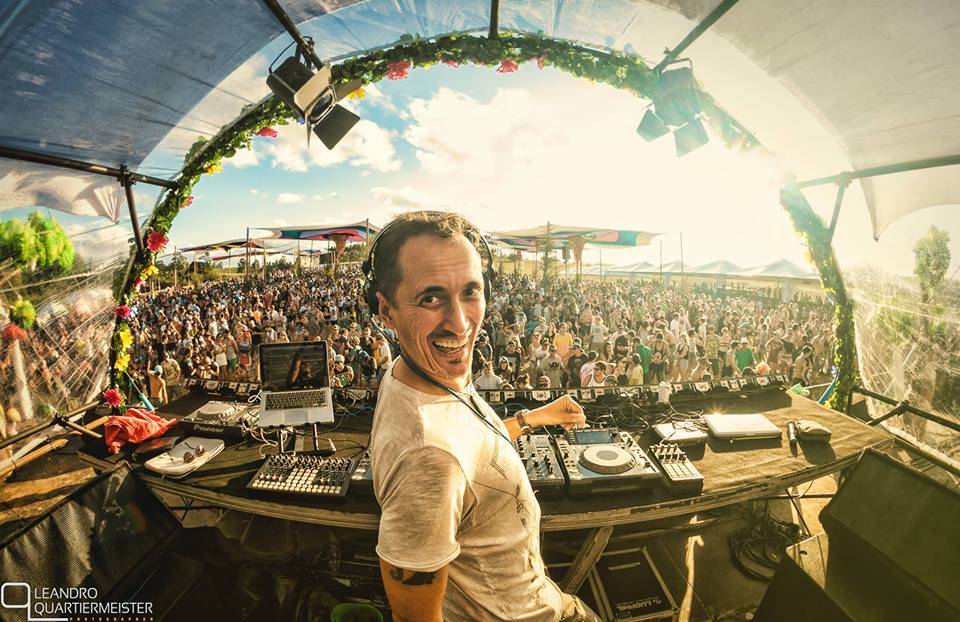 Perfect Stranger @ Cyclus Festival, Brazil. Ph: Leandro Quartiermeister
Q: What is the most important thing you've learned from being a part of this culture?
A: 1. To expect the unexpected and keep CALM ( well, I am known for not keeping calm, but I know that I should )
2. That dancing around the globe in small and large groups of people just makes the planet a better place with better vibes and better future.
Q: The names you chose for your two big projects along the years BLT & Perfect Stranger say something about what you think about egoism in music – are you feeling comfortable with the way DJs are being treated these days, playing on elevated stages and being big stars? 
A: Well, it's a complicated little question. As much as I don't like the "God is a DJ" slogan and elevated stages etcetera, I would say from behind those 17 years I am around, that getting paid very well and living a life that's free of the uncertainty of what gonna happen next year or next month or a next week, is definitely not a bad thing… Personally though, I can't see myself in all that glam – it's just makes me want to go home. Other point of this, is that some say that the super commercial festivals and stages and DJ's maybe play bad music, but everyone needs to start somewhere to get to the good music. Sounds too complicated to me, even of in some cases it can work
Q: How do you deal with enthusiastic fans? How do you feel when playing to crowds of thousands and tens of thousands? 
A: Same as I do with smaller crowds. Of course it's not always possible but I think the peak of professionalism is to perform in front of 1 person and in front of 10,000 with the same energy and same quality of performance
Q: Your music somehow keeps evading definitions, all along your career you've never really fitted in any genre completely and seem to always be a bit of an outsider. Why do you think this happened and are you comfortable in that spot?
A: I am totally uncomfortable in this spot, but that's how it goes 🙂 Sometimes you don't choose the spot but the spot chooses you… I am working on fitting in better…
I always was out of "consensus" but in a way always it was that people would still want me to come and play the weird.
Q: I think that behind the scenes in various points in time you had a very important influence on the scene that most people are not really aware of. Among them was the introduction between Progressive Trance and the Israeli scene, which had a huge impact on both, and of course the cross over between trance an Techno of which your album "Free Cloud" was the highlight. Do you agree? Why do you think it happened?
A:  I agree, and I think it happened because I always was out of "consensus" but in a way always it was that people would still want me to come and play the weird. o.O Can't explain that phenomena. It happened since I firstly started to DJ, and continued till these days actually… So back in the end of the Millennium I would play Psy that is slower and quirkier than most of the Goa that was played at the time, and I would play in a really best events just because of that ( I guess ) and later in the early mid 2000's I would play Progressive sound ( that lasted with me only for 2 or 3 years actually ) and again found myself playing everywhere after about 1 year of accumulating the sound… The turn to Psy Tech was ( at least for me ) the most exciting one, because at that time the music we played in the parties was so awesome ( really… I can't forget some of these moments ) and we would find new amazing tracks all the time and they would be totally out of the "template" it was really musically abundant time… And yeah the reaction of the Psy crowd to this change was amazing… Really… I think 2007 – 2011 would be really the busiest years I had in Israel, and in the beginning of that time the night dance bars in Tel Aviv started blooming so I found myself playing like 4 or 5 times a week… Why it happened? I think I am a bit like my big hero Forrest Gump 🙂 things happen to me and I flow with them more than I force things to happen…
Check out Free Cloud by Perfect Stranger:
Q: I've heard you once in a music conference in Tel-Aviv and you were asked to lecture about artist promotion in the digital age. And the main message you had for the many young producers in the crowd was not about Facebook or Soundcloud or booking agents, but about how important it is to make your own original music. Can you elaborate on this? 
A: I think still, that the most important thing needed for a young artist ( from any genre of music ) to break through is the ability of totally being him or herself. We are so much the same and so much different at the same time ( as singles in the whole species thing ). We are taught however, from the very young age how to "flow" within a group, and we learn group definitions almost for everything. In music ( and in many other professions ) what is important in my opinion, is the complete opposite. It's when you discover yourself, when you manage to get into that "no entry" zone that was blocked by schools, your parents, yourself and many others in your life, only then, when you "unlearn" what you must, the music you will write will be completely yours and it would be unique and special, and dare I say that it's way more important than to be a genius on working out a Synthesizer 🙂 And if you master both, then you got yourself a winner!!
Q: As someone who has been playing in so many places around the globe can you tell us a little on how are the different local cultures interact with your music and describe in one sentence parties in Australia, The US, Canada, Brazil, Mexico, Europe and Israel.
A: It's a very tricky question because the world scene is always changing on a global scale and at the same time every country has its own rhythm and changes are happening everywhere. So what applies to today's trends might be a complete opposite to what was 3 years ago… As for my music – The Aussies and Canadians probably enjoy the pranks and the slower / sexier side of my sound, in the USA I play faster Psy but lately it's just long sets where everything can happen, Europe consists of many countries as you are probably aware of, and really hard to treat it as a whole but they like Trancey Trance, especially on big festivals in the summer, Brazil probably enjoys the more epic Perfect Stranger tunes the ones I made back in the day, Mexico likes bit of everything but there too, as in the US, I am playing long sets lately that can go anywhere. Israel is my home and I witnessed so many generations of party people emerging – and at the same time me and my music have grown and changed so many times 🙂
Israel is my soup of experiments.
Perfect Stranger LIVE @ Boom Festival 2014:
Q: What was the most exotic and/or faraway places you got to play in?
A: The most exotic ( but not most faraway place ) would be a beach in Panama where Geo Paradise Festival happens. It's an amazing place in a jungle. Totally makes you feel Robinson Crusoe style
Q: A few years ago you made a move outside the safe zone of writing music, performing it and DJing and started releasing music taking over veteran Swedish label, Digital Structures. What is Digital Structures all about?
A: Digital Structures' agenda is to provide solid dance floor material for the new age, where boundaries between different genres have melted. No genres. No definitions. Just good music that hits where it counts. That's what is written under our logo 🙂 That is what it is
I think the peak of professionalism is to perform in front of 1 person and in front of 10,000 with the same energy and same quality of performance
Q: What is new with the label and what are your future plans there?
A: I am not super happy about that part actually. In the world of today, if you don't get charted in the proper big shops on the Internet, your releases are doomed not to cover the Mastering costs. There are about 3000 single releases every Monday… and every Tuesday and so on ( I think it drops a bit towards the weekend ) – so the potential buyers of the music you release are basically flooded with unreasonable amounts of music ( for good and bad ). The bad side of that abundance is that if you are not charted or bannered or promoted in some way to stand out of that amount of releases, you will not manage to sell enough to be worthy of existence. Until now I was mostly holding the label from my own pocket, because I believe that it is my part of giving back to the younger artists and I enjoy releasing the less commercial sound. Of course I am not totally saint as I do believe that persistence is the name of the game here as in many fields : ) so we will wait and see.
Q: What is unique in the way you produce and write your music comparing with other people who's creative process you are familiar with? 
A: That my way is the most boring way I know. If I would sit with me in the studio I would probably drop to sleep in 5 minutes 🙂
Q: what's happening in your studio right now?

A: Falling asleep!! And trying to finish a Yuli Fershtat remix to Renegade Mutant Muffin – a track I did as Perfect Stranger with Australian awesome producer Sun Control Species.
Perfect Stranger @ Eclipse 2012: 
Q: You are playing a back to back DJ set with Ace Ventura in Ozora Festival soon. Not the obvious thing considering you two DJ very different styles of music usually these days. There's quite a build up for that set. How do you think it'll work?
A: We gonna rock your socks 🙂 and booties 🙂 and everything else
Q: What does the immediate and faraway future holds for Perfect Stranger and Yuli Fershtat?
A: Immediate future holds a baby girl. As it's the first one, nothing else is relevant at the moment I have to admit. So like Forrest Gump we will follow this step by step 🙂