Magazine
Nabia Festival 2022 (Sinai/EGYPT)
Nabia Festival 2022 (Sinai/EGYPT)
The organizers are both proud and humbled to share the musical story which will take us all on a 4 day psychedelic and colorful adventure, full of diversity and magical harmony. They certainly made sure to select the finest, the deepest and highest, most talented musical masters from all edges of the world – each one with his own unique and divine message.
The festival organizers wanted to share with you all the intense happening in the last few days and to bring you the message that all of this could not have happened if it wasn't for you, you are the ones they are making it for, and you are the ones who make it all possible.
Expect a massive lineup with Psy artists such as Avalon, Electric Universe, Etnica, Guiseppe, Tristan and downtempo projects such as Electrypnose, Kaya Project and many more !
Nabia Festival is taking place in one of the most unique and luxurious hotels, which the golden Sinai has to offer. A 5 star resort that resides in between magical mountains and landscapes, with it's own private strip of shore and endless attractions, marine sports which will give a nice escaping and relaxation from the pure dripping psychedelic madness,  super luxurious rooms and a massive camping site full of green grass which will accept any tent with loving and open arms.
Expect a massive lineup with Psy artists such as Avalon, Electric Universe, Etnica, Guiseppe, Tristan and downtempo projects such as Electrypnose, Kaya Project and many more !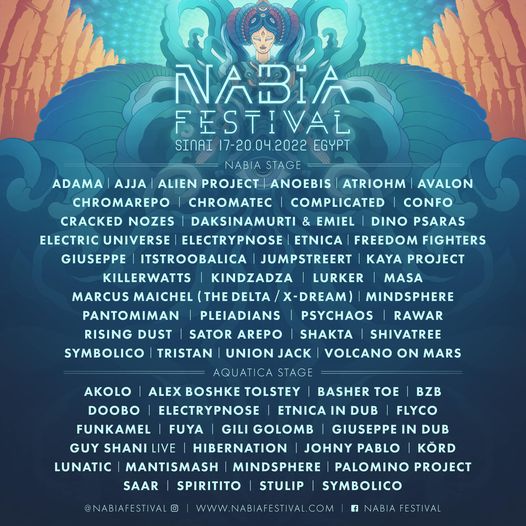 In the upcoming Nabia Festival , there will be a crazy massive market, full of diverse goodness – high quality food stands, art and jewelry, gemstones, handcrafted artifacts and many more.
Restaurants and shops at the hotel itself will be open throughout the festival time, which will bring us a taste of their lovely and authentic Egyptian food, alongside some goodies and souvenirs out of the heart of the beautiful Sinai.
The Nabia Festival is definitely a gathering for music. but – it is also a full content event, which brings a full and abundant experience of art, culture, music, good and colorful people, human and intergalactic connections, and plenty more.
Nabia Festival's camping zone.
A massive piece of land, covered in evergreen soft grass, right beside the Tulip hotel, surrounded and wrapped in big shades and comfortable facilities for relaxing and sleeping.
All the persons involved in the festival are working around the clock to give a proper magical camping experience in Sinai, for anyone who chooses to spend their sleeping nights under the starry Egyptian skies.
The Nabia Festival's camping zone will also include comfortable showers and toilets, which got bigger in quantity, and of course free drinking water for refilling as you please.

A proper mixed festival – with people coming to unite and celebrate from all over the world is about to happen. How to get to the festival ?
For visitors from Europe there are *a* few direct flights from Italy, Belgium, Germany and Holland(Netherlands).
A good option is to fly to Cairo and take a domestic Egypt Air flight to Sharm el Sheikh Airport, which is the closest AP to Nabia Festival.
Important notice!!  Some countries are cheaper when it comes to flying to Egypt, so before you book a flight from anywhere, see if you can arrive in one of these cities by car and book a flight from there. the cities are:
Paris
London
Moscow
Milan
Another way to *get to* Sinai is via Istanbul, Turkey –  with both Pegasus Air and Turkish Airlines offering DIRECT flights to Sharm El Sheikh Airport.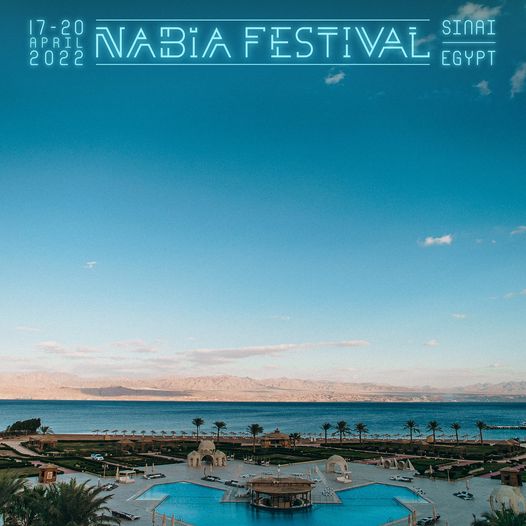 Here is a Rome2rio link with some info about transportations and flight, from Europe to Egypt: https://www.rome2rio.com/map/Europe/Egypt
Another Important topic to discuss  is the Egyptian currency.
When and even before, you arrive in Egypt or Sinai itself, it is highly recommended changing your Dollar or Euro to Egyptian Lira in the nearest change spot (Usually at the airport).
For many reasons, the best way to handle money issues in Egypt is to always ask for the price and pay in their local Egyptian Lira.
One last thing – The festival organizers have a nice collaboration with some local drivers who are driving to the border and airports for a small and humble fee –   If you wish to be picked up to Nabia Festival by one of our drivers, please contact the organizers and they will arrange it together with you.