Magazine
Vini Vici – "Life is a Remix – Interview
Vini Vici – Trancentral Interview
Aviram Saharai & Matan Kadosh are Vini Vici, a group that really needs no introduction. The guys have crossed all genre borders and met huge success on the biggest stages electronic music has to offer. Yet probably most of the people who know Vini Vici are not aware that it all started with 3 teenagers who fell in love with Psytrance in a small town in Israel 20 years ago. Vini Vici have just released a new massive remix album on Iboga Records and we used the opportunity to hook up with them via email to learn more about the album but also more about them, about the journey that brought them here, how does it all feel and do they still love Psytrance parties. It's a very interesting read!
While you read, listen to Vini Vici's DJ Set of "Life is a Remix" album :


Q : Hi Matan & Aviram, how are things in Vini Vici's world? How have you been dealing with the world under Covid?
A : Hello everyone,  Like most of the world and especially in the world of night life, our lives have been turned upside down. In the beginning it was a total shock and all we did was just try to adjust step by step to the new reality.
We have to say that at least from our point of view it has not been all bad, we had the chance to enjoy our families (which we couldn't really do in our normal routine) we had the time to do simple things we miss so much like traveling and exploring nature, playing football and soccer with friends as well as a lot of studio time. So it has not been all negative.
The Psytrance world is more than music to me, it's a tribe, a way of life!
I can't see my life not being part of it, I am married to a Psytrance girl, and 3 months ago I took my 3 year old son to a Psytrance after party for the first time (which I was not even playing in).
Q : You've gone a long long way from your start as electronic musicians to where you are now. Can you paint for us two pictures and describe these two situations: The first, you guys working on your first electronic track ever together; The second, you guys performing on the biggest stage you ever performed on.
A :
First picture:
3 kids (Matan 18, Aviram 16, Itai 16) meeting after school at Itai's place sitting together in his room in front of an old computer with small computer speakers creating the first "Sesto Sento" track called "Soap Bubble".  Amazingly it was also our first song that was ever released.
Second picture:
18 years later, Aviram and I (Matan) under the new project name 'Vini Vici', playing on one of the most prestigious stages in the electronic music world for more than 100,000 people at 'Tomorrowland' Main-stage in Belgium. It was an out of body experience.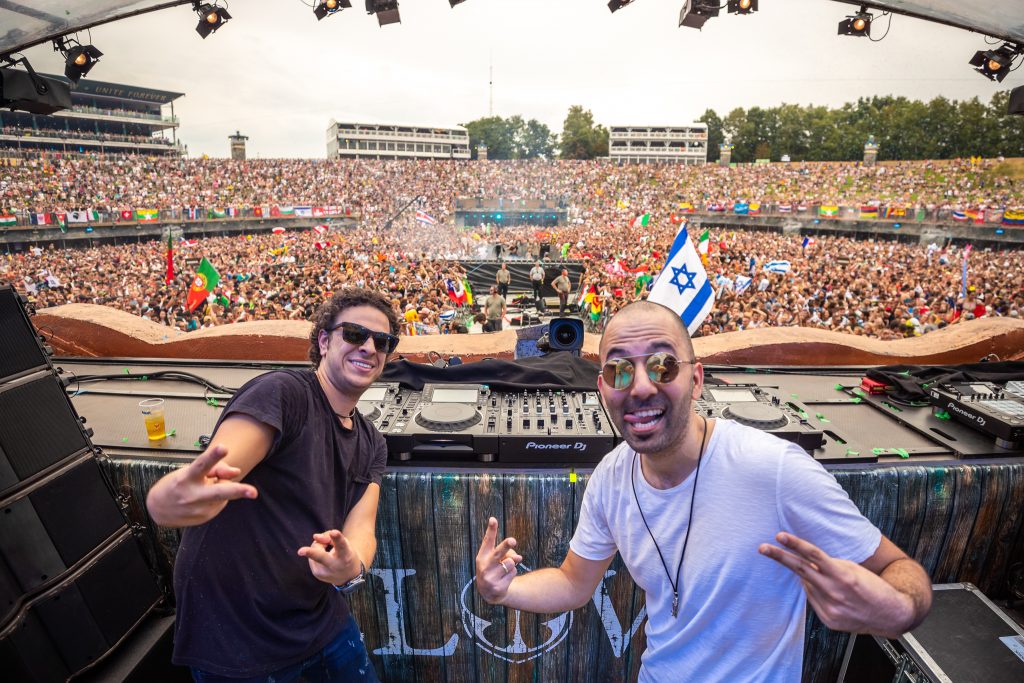 Q : What has changed about you between these situations? What stayed the same?
A : Wow, so much has changed, we think that besides the fact that we are still doing what we love everything around us has changed. Personally, we both got married and became fathers and both of us have gone through our life's journey.
Professionally we changed our focus from the Sesto Sento project to Vini Vici after Itai decided he had enough from the world of music and left the group.
Our style of music has changed a lot as well, for the whole scene and for us especially (after 20 years).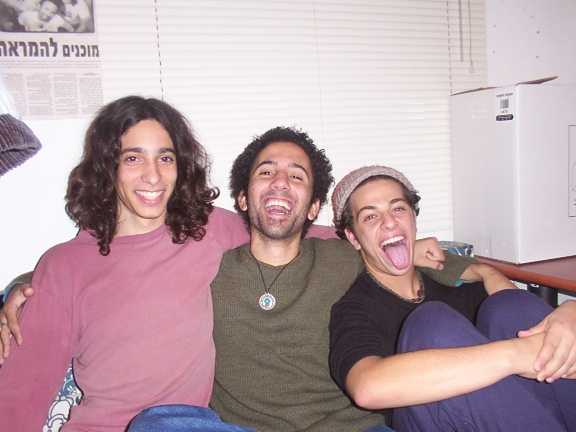 Sesto Sento, 2002. From left to right: Itai, Matan & Aviram.
The Production skills and music production world have become so big (I remember when we started, we did not even have sample CDs). The scene grew to a size we never even dreamed of. We started playing for 200 people in underground parties in the woods of Israel and now we can perform 3-4 countries in one week, playing for hundreds of thousands of people.
As we said 20 years has passed since we started our musical journey, the list of things that have changed is endless.
Listen to Vini Vici mix @ Psy-Nation Radio: 
Q : Like other Psytrance acts who've broken out of the Psytrance world and went beyond it (Infected Mushroom, for example), you seem to get a lot of backlash for "going commercial" etc. Knowing you guys a bit over a long period of time, I know how in fact you really didn't change much personally from the early Sesto Sento days and are just doing your own thing and going with the flow of the music. I also know how much the Psytrance world means to you and that you always see yourself as part of it. How does it feel to read comments like these?
A :  I have a lot to say about it and I'm happy that finally someone has asked us this question.  In my opinion (Matan), you can't say that someone turned commercial while he/she is doing truly & honestly what they love. I remember 22 years ago when I just started to collect Psytrance music I wouldn't record a mini disk or buy any CD if the tune didn't have a really memorable part or melody, this is how I have been since day one.
These days we are releasing music which is geared more for the bigger crowds but at the same time we keep releasing more underground material, I guess haters will choose what to look at so they can keep on hating and feel good about themselves.
And yes, the Psytrance world is more than music to me, it's a tribe, a way of life!
I can't see my life not being part of it, I am married to a Psytrance girl, and 3 months ago I took my 3 year old son to a Psytrance after party for the first time (which I was not even playing in).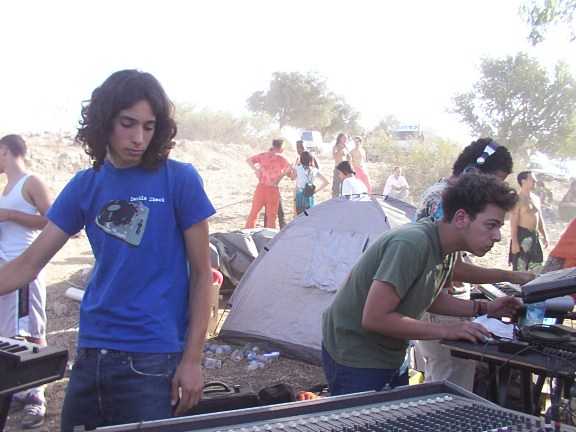 Sesto Sento live in a Psytrance Party in Israel (Moksha Project, 2003)
(Aviram): First of all we are not getting as much "backlash" as you might think, maybe 2-3 years ago. I can say that at the beginning we felt kind of hurt from it (we are human after all), but after a short while we did not really care about the "keyboard heroes". Let me tell you an inside scoop, sometimes when it is too quiet, we are doing things to shake the boat a bit, purposely.
We have been doing this for 20 years now and it is in our DNA to always push forward and explore the unknown! for us this is the definition of art. I see some people who have not really changed their sound since day one, it drives me crazy, I'm sure they are not enjoying it, they are prisoners of their own sound.
Let me ask you something (Matan), If some artists are doing more underground music which they don't really enjoy but create it because it's the current fashion
Is that considered "going commercial"? you can guess my answer.
I remember playing at an after party when all of a sudden a woman went on stage and started kissing the monitor speaker, but I mean really kissing it like it was her lover for like 3-4 minute till someone came and took her out of the club.
Q : New remix album coming out on Iboga Records with a massive and very diverse roster of remixers from Desert Dwellers to Infected Mushroom, Astral Projection to Bliss, Ace Ventura to Hilight Tribe, Captain Hook to GMS, and Skazi to Tristan, just to mention some. It is as if you brought all the different sides of the Psytrance world together. Was this one of the ideas behind the choice of remixers?
One of our life mottos is "Good music is good music". We do not care if it's more underground or more commercial, we keep an open mind and if we like it, we like it.
We just took some of our all time favorite psytrance artists, and let them to do their thing. Artists that in our personal experience, changed or heavily impacted the scene.
Of course there are others who have been influencing the scene but we couldn't really fit everyone in.
Q : It's a tough question to answer, especially with a lot of the remixers being your friends, but still, which remixes are your personal favourites in the album?
A :  Normally we would give you the politically correct answer but this time we will be straight forward:
Liquid Soul's remix of "In & Out",  Bliss' remix of "The Tribe", Ace Ventura & Outsiders' Remix of "Talking with U.F.O's".
(Aviram) We really like them all, Infected Mushroom remix is also amazing!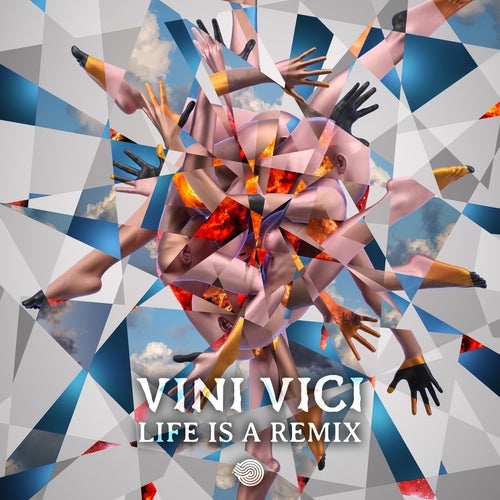 Listen to & support Vini Vici – Life is a Remix : https://iboga.fanlink.to/LiFeRmx
Q : You've got to play in some far away and exotic destination, in the Far East, for example, tell us about the party experience in some of these places?
A : Yes most of the far east is a territory which is new to us, places that have never heard about Psytrance music up until a few years ago. It's a huge market, and they definitely know how to take things to the next level whether it is production level of the festivals and clubs or by the quality of hospitality, love and respect for the artist.
Beside that it is always amazing to get to explore new countries, cultures, food, and people.
Q : I'm sure you've encountered some crazy situations in your vast musical career – tell us one real funny / weird story.
A :  We have had a lot of crazzzy weird experiences, but one which comes to my mind happened around 10 years ago in Japan. I remember playing at an after party when all of a sudden a woman went on stage and start kissing the monitor speaker, but I mean really kissing it like it was her lover for like 3-4 minute till someone came and took her out of the club. This was really weird and hilarious at the same time.
Q : One thing people will be surprised to learn about you?
A : We normally don't really share much about our personal life and honestly we are both really simple people from a small town in Israel. Most of the things that people might be surprises about is related to our personalities but this can happen only naturally when we have a deep meaningful conversation with someone.
Professionally we think a lot of people would be surprised to know that since Aviram is living in Brazil and I (Matan) am in Israel we make 90% of our music online.
We used to do it all the time since we always make music on the road and while travelling but i think it's really uncommon.
Q : A hard question we ask everyone, if you had to choose one track as your ultimate Goa/Psytrance track, what would it be?
A :  We are big fans of lots of great Psytrance music from over the years, but if we have to choose one it would be "The Muses Rapt – Spiritual Healing".
Q : Future plans?
A : It's kind of weird to talk about future plans in times like these. One of the things that COVID-19 taught us is that we need to appreciate what we have and not to take things for granted.
Our main goal right now is just to get back to normal, to our great and amazing normal.
Check out also our interview with Out of Orbit (Eitan Reiter from Loud):
https://trancentral.tv/2020/04/eitan-reiter-from-loud-goes-out-of-orbit/