Desert Dwellers Interview
Desert Dwellers is the convergence of music producers Amani Friend and Treavor Moontribe, who honed their individual crafts in the mystical deserts of California and New Mexico, long before electronic music reached mainstream. Amani and Treavor combine the raw sounds of the natural world, wrapped in dance-floor and chill-out productions; blending deep bass, earthy percussion, etheric voices, and cross-cultural instrumentation into a sonic incense for the mind and body.
Their second remix album is just out on Sofa Beats, and it's a great chance for us to hook up with them.
While you read, listen to Desert Dwellers new remix album
Q : How did both of you discover electronic music, and how did the alchemical union of Treavor Moontribe and Amani Friend happen?
A : [Amani] in the late 80s and early 90's I was in a few different reggae bands. I went to my first Rave in the winter of 1992 in a warehouse in Albuquerque, about an hour from where I lived in Santa Fe, New Mexico. I was converted instantly, listening to mixtapes repeatedly on the weekdays and finding elusive events on the weekends. My friends and I got inspired to do our own events in the high deserts of Northern New Mexico from 1995 to 2002, a peak time for all of us back them. That's ultimately how I met Treavor, when the Moontribe Collective and the NM crew started to cross pollinate at each other's events. We would bring Treavor out to Santa Fe as often as possible and he would stay a week each time to hang and work in the studio together. we got a lot of music done in NM early on that way.
[Treavor] I first heard of underground clubs/raves in LA sometime in 1991, but finally managed to get to one on New Years Eve into 1992. About a month later I found the music I enjoyed in it after hearing Dj Doc Martin at an after-hours club. They called it Acid House or something like that….
We both love many genres of music, so we are always trying new styles together especially when you zoom out to two decades perspective. We have watched many music trends come and go and always try and find our own "voice" within whatever stylistic approach we are exploring.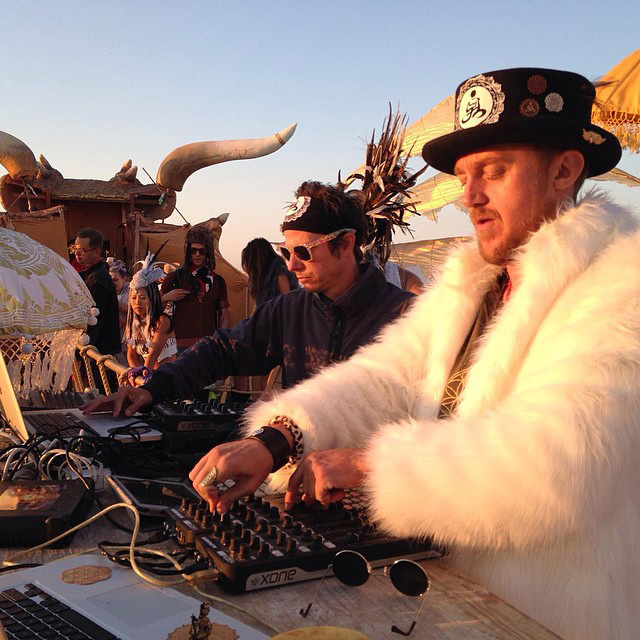 Desert Dwellers @ Burning Man
Q : How has your collaborative process evolved over the years?
A : We mostly always have lived in different cities since those early years, so we will usually send a project back and forth several times until it is done, but now with Treavor living in Denver and Amani in Boulder, we have been having more realtime sessions again and it feels amazing, and a welcome addition to the lockdown! we have also been getting back into using more external hardware synths again like we did in the '90s, after a long stretch of producing all our synths "inside the box." We both love many genres of music, so we are always trying new styles together especially when you zoom out to two decades perspective. We have watched many music trends come and go and always try and find our own "voice" within whatever stylistic approach we are exploring.
Q : Desert Dwellers has been inviting remixes for years now, and it has become quite an industry. How did it all start, and what have you learned about your craft and yourselves over this decade-long journey?
A : In the spirit of collaboration, and to help create a platform for new artists to find new ears, we have been working with many amazing producers (and now friends) over the past decade. we lost count but there is at least 120+ official remixes of DD out there and a lot of Liquid Bloom now as well. It's fun for us to hear people's different interpretations of the originals, and its an engaging way for electronic musicians to collaborate. we have also done many many remixes for others and enjoy the process very much.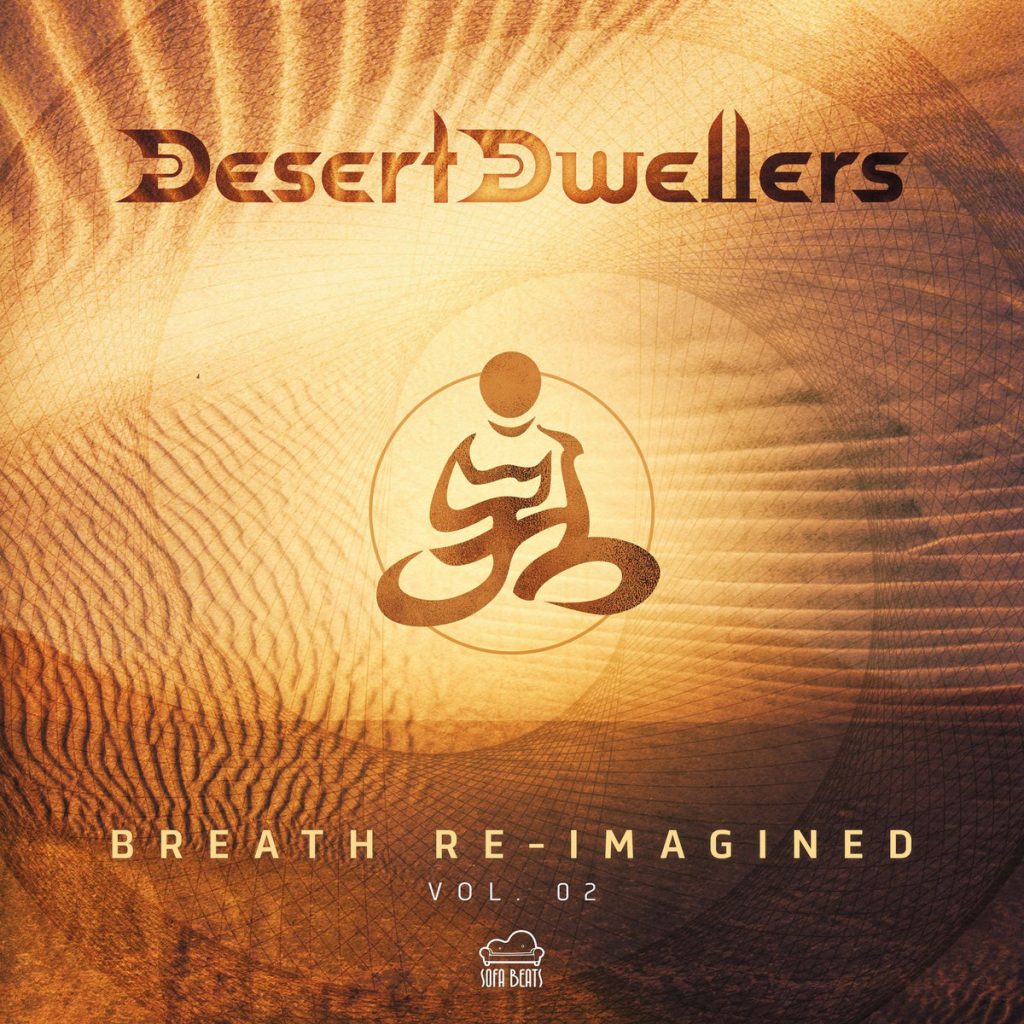 "Desert Dwellers – Breath Re-Imagined Vol. 02" Album cover
Get Desert Dwellers – Breath Re-Imagined Vol. 02: https://www.beatport.com/release/breath-re-imagined-vol-2/3003245
Q : Tell us about the origins of your latest release, Breath Re-Imagined Vol. 2. Do you approach artists to contribute, or do artists approach you? Why did you decide to team up with Iboga Records for this one?
A : Each of the Re-Imagined albums are focused on a different style of remixes. Vol 2 is in the Downtempo House/Organic House genre which is what the original album Breath mostly is as well. Treavor has been friends with Emok of Iboga Records for many years and saw that their sub label Sofa Beats had some nice success in the Downtempo House world so they started talking about the album and it all came together to collaborate on the project. It was actually quite challenging to get artists in this genre to agree to remix us as we aren't the most well known in this genre yet. In the end though we found the perfect group of artists and couldn't be happier with the results!
Q : Breath Re-Imagined Vol. 2 is heavily flavoured with world beat and folkloric house music. Was this a conscious choice or does a project like this evolve organically?
A : Yes as stated above, each vol in this series of albums focuses on a different style, this one being the slower BPM house style.
Q : Breath Reimagined is part of a planned trilogy. Is Volume 3 taking shape yet, and is there anything you can tell us about the conclusion to the Breath Reimagined saga?
A : Vol 3 is actually uptempo BPM house/techno styles with the likes of D-Nox, Uone and Djuma Sound System as well as many other top names in those genres! We even did an uptempo Desert Dwellers remix for it too! The album is done and in mastering now. It will be released on Treavor's new label Dreaming Awake sometime in October most likely.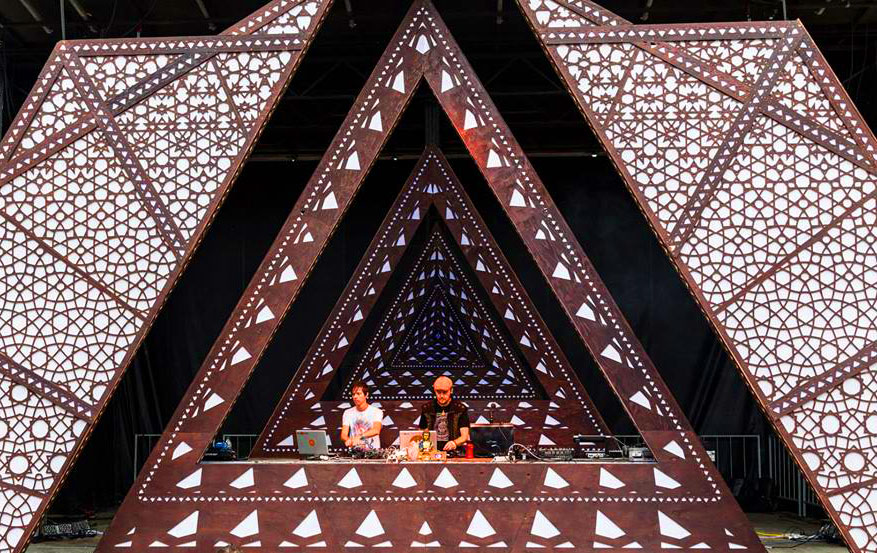 Desert Dwellers @ Eclipse Festival (Canada)
Q : People may be feeling nostalgic for festivals in this time of social distancing. Do you have a favourite memory from a gig or festival that you would like to share?
A : We haven't really started feeling nostalgic ourselves for festivals or gigs. We have been touring heavily since 2012 so actually we've been enjoying this break quite a bit. We were really hoping that Global Eclipse would happen still, and I guess there's still a little hope there, but we aren't counting on it. The Symbiosis Festivals are always such a treat and the two eclipse festivals they produced were incredibly epic fun. Fingers are crossed that somehow it can happen and us Americans are allowed to get there!
Q : The pandemic and all its attendant fallout have affected all of us, and hit many in the music industry particularly hard. How have you coped or changed strategies to stay emotionally healthy, and do you have any advice for musicians out there?
A : [Amani] The lockdown has allowed me a much needed break and the opportunity to deepen my meditation practice, spend time outdoors, to take better care of my health and catch up on much needed rest. Staying creative with projects and new music is a great way to stay in a good place mentally.
[Treavor] The biggest obstacle for me is financially. So far I'm doing ok and not in trouble, but I certainly am already looking at ways to support myself for as long as this all goes on for. It's still really unknown how the future of the music business even looks. There's no real guarantees of anything, so I'm just doing what I need to do in order to not end up in serious financial trouble. Otherwise I actually have taken advantage of the time off by making more music this year than I ever have in my whole life. I'm working on tracks 15-18 right now and that's not including the Re-Imagined vol 2 and 3 projects which are really huge endeavors. I also started a new label called Dreaming Awake at the end of last year and have been very busy establishing that. My advice to other musicians is to use this time to get really creative.
Q : You both have solo projects outside of Desert Dwellers (Treavor with PheuZen, and Amani's Liquid Bloom). Will we be hearing from your solo projects any time soon?
A : [Amani] I've been continuing to release various new Liquid Bloom releases all year on our label Desert Trax, and have 2-3 more planned for 2020. The next single is called "Peyote Canyon" and has 5 remixes in a wide range of styles. The release in September is a collaboration track with Israeli producer TRIBONE called "Interbeing." I also have done a few remixes this summer for Kaya Project and Nessi Gomes.
[Treavor] As well as my PheuZen project I also release under the name Forever & Ever which focuses on 4/4 genres. The lockdown has also reignited my love for DJing since the live streaming thing has become our go to for performing. I also have my new label Dreaming Awake which is focused on uptempo 4/4 music and have artists like Extrawelt, Stan Kolev, Dance Spirit and Sebastian Mullaart on board to name a few.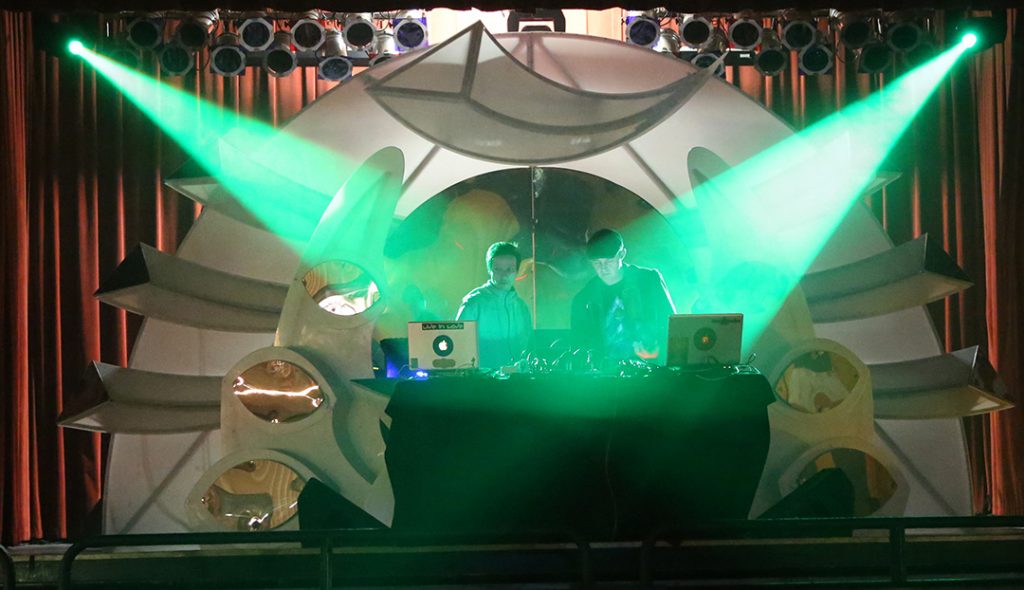 Desert Dwellers sound check in front of Shpongletron
Q : What music are you listening to now and possibly inspiring you?
A : [Amani] I have been listening to a lot of Ambient music and rediscovering many diverse gems in my vinyl collection. The past week I have been exploring Simon Posford's new album "Flux & Contemplation,' and the new Hibernation and Kaya Project albums Seb has put out.
[Treavor] I've mostly been digging into my collection as I had so much music there I hadn't ever played or really deeply listened to. Lately I've really been really into Electro Breaks again as the groove is just impossible to not wanna dance hard to and it's become a staple sound in my PheuZen project. I call it Alien Breakdancing Music or Space Breaks!
Q : The it's-not-fair-but-We'll-ask-it-anyway-question: What is your ultimate electronic music track (yes, you have to choose one each…)
A : [Amani] Shpongle "Divine Moments of Truth" if I had to pick just one.
[Treavor] Future Sound Of London – Papua New Guinea I suppose, but really is this a question that can truthfully be answered? Not by me….or maybe Eat Static – Forgotten Rites….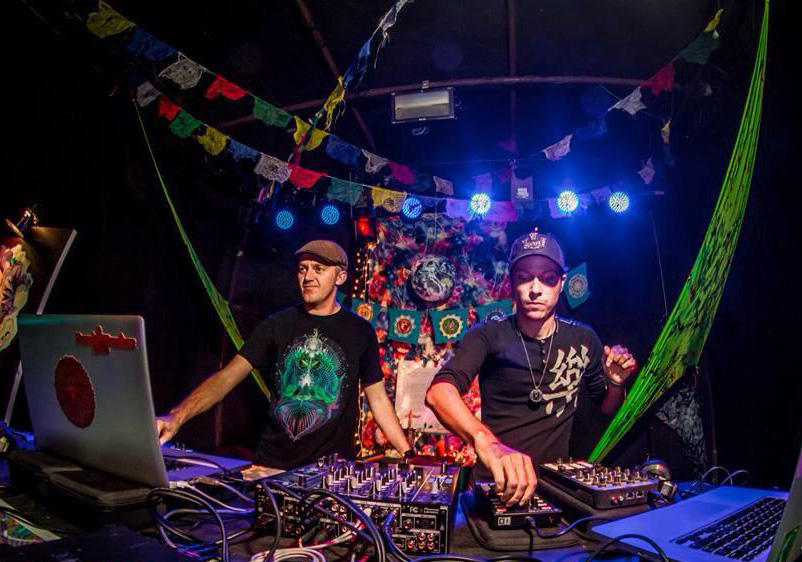 Desert Dwellers @ New York City
Q : Where do you see Desert Dwellers going in the near future?
A : [Amani] With so many variables in the air it's hard to say where and when this will all land and how it will look at that time. We have been doing a bunch of streaming the past several months which was fun for us, our friends, and our fans; and currently heading into the studio to work on new music together as much as possible through the fall.
[Treavor] For now we're just being in this moment and making lots of music. If and when gigs start up again we will assess how we feel about each one. Who knows when Americans will even be allowed to travel outside the states with how our country is mishandling the pandemic so really trying to stay away from predicting the future or even imagining what it will be like.
Check out our interview with Eitan Reiter / Out of Orbit :
https://trancentral.tv/2020/04/eitan-reiter-from-loud-goes-out-of-orbit/