Magazine
La P'tite Fumée – Natural Trance
La P'tite Fumée – Natural Trance
Live trance bands have been present in Psytrance culture for a long time. The legendary Star Sound Orchestra will be remembered by all old schoolers and of course everyone is talking about Hilight Tribe these days. As lovers of good music and diversity and strong believers in live music and breaking formulas we were happy to discover La P'tite Fumée, a live trance band from France who define their style as Natural Trance. They have just released a new album and we hooked up with them via email to learn more about the band.
While you read listen to the new La P'tite Fumée – Owl Rising album:

Q: What is La P'tite Fumée? What does the name mean? Who are the people behind it?
A: La p'tite Fumée is a French Natural Trance band. The band started in 2014, from a small place called Ariège in South of France. It's the fruit of 4 musicians getting together. Chand plays didgeridoo, transverse flute, drums and the mic; Camille plays traditional guitar; Vinz' is on the drums, and Yo' plays bass. From this meeting was born the "Tribou", our iconic howl and band logo.
'La P'tite Fumée' what does that mean? Haha. Literally "the little smoke". It's the french translation of a book, 'The teachings of Don Juan' of Castaneda. It's what enables Don Juan to access personal bloom, some say, but for us it's what is left on stage after our passage.
Q: How did you end up making "Natural Trance"? Why do you use that expression? What does it mean for you?
A: We started playing in the streets to make a bit of money, djembe, hang, didgeridoo and guitar. Straight away the tribal style set, due to our instruments and influences. More and more people started following our moves, and in 2014 we won a competition to play the first part of Hilight Tribe's gig.
We mix the impact of techno with an instrumental and festive live show. It's mainly a universe of good vibes, people meeting and sharing.
Then everything went very fast, first album and music video 'Manuia', made our name in the 'Natural trance' scene. We got an EP out in 2016 and a second album this year in 2017. Of course we used this term, because it was inspired by the 'Hilights', It's trance naturally, natural trance… For us it also means a bpm between 140 and 180, with a big number of instruments: a big place for the didgeridoo, the flute and the guitar to create the journey, and of course a big bass kick embraces it all to make the public vibrate.
It's the perfect balance in between electronic music and instrumental music. We mix the impact of techno with an instrumental and festive live show. It's mainly a universe of good vibes, people meeting and sharing.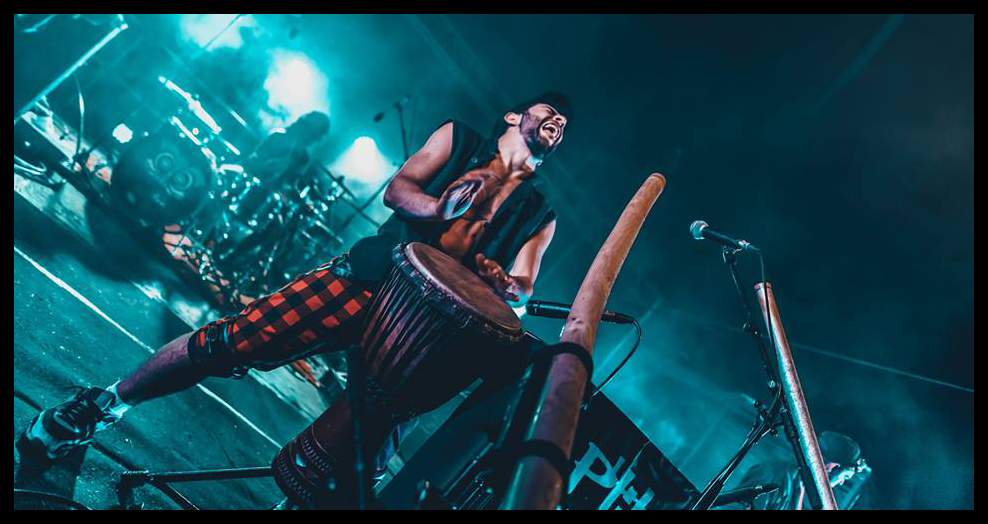 Q: What was your first trance experience?
A: It depends… We spent quite some time in trance festivals and rave parties, but if we have to give you that first true experience of trance… It probably came from the Boom Festival we did in 2012; It blew our mind, Ace ventura, Avalon, Captain Hook… It's a magical place, meeting beautiful people who open us this world, this parallel world? It has always been our dream to one day play there…
Q: Tell us about your new album – Owl Rising. What can people expect to find there? Why the name?
A: Why the name? Because since the beginning the owl is our icon, it is with us in every gig, and in this album it grows.
'Owl Rising' is our most accomplished album, the one the represents us the most after 3 years on tour, discovering and composing.
We wanted an album that would be original and powerful, that would bring everybody on a journey, and fulfill the expectations. We added more samples than before to play with the atmosphere around the instruments. We also built it in the image of our live show. This is why you don't find the Hang anymore to give more space to the guitar. The Didgeridoo is highly present, as the Djembe and the Darbouka are too.
Binary or ternary, we do around 160bpm on average, on tracks like 'Laniakea' or 'Elements'. Some tracks go up to 180bpm like 'Psyphonik' or at 140bpm on 'Chillum'. The music video 'Haunted' has worked well on Youtube, and we have just released our latest one, 'Elements'.
You can find the full album on internet for free download. https://laptitefumee.bandcamp.com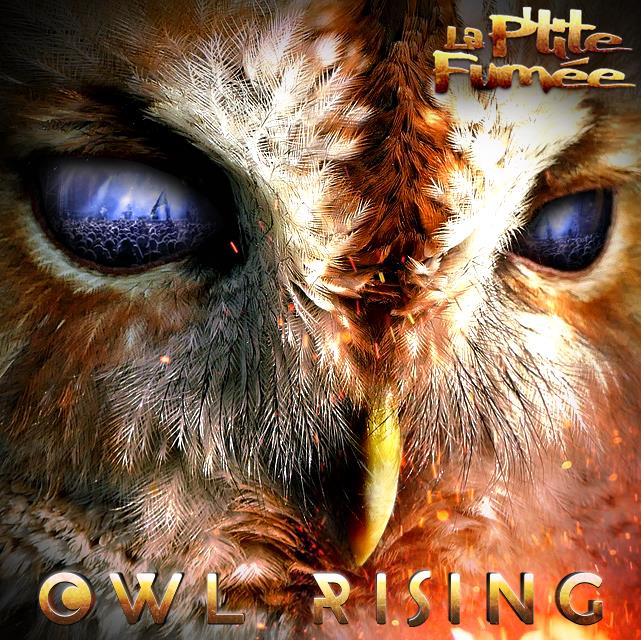 Q: You perform quite a lot – do you play mainly in parties? Festivals? Other events?
A: In France, we play a lot on all style festivals: world music festivals, and specific style like electro / techno / trance or 'parties'. We have started touring in Europe: Germany, England, Italy, and Switzerland… (All our tour dates are on our website https://www.laptitefumee.com )
We are often booked for the 'closing' parts, because our energy is very festive. On stage we like to play with the public, make them jump as much as possible and they give it back to us! We call it the 'Happy natural trance'!
Q: How do people who are used to DJs and full electronic sound respond to your live show?
A: Just by jumping as everybody does!
Q: How do you incorporate the electronic side of things into your live show?
A: First of all we compose the tracks with the instrumental side of it first, and then we come and add samples to create the universe wanted. We spend a lot of time in the studio doing the work on the mix and arrangements. We listen, we choose and edit. On stage it's Vinz' the drummer who triggers the sound samples with a pad. But more broadly the electronic side comes also from the lighting, the quality of the sound and this is why we are accompanied by two engineers on tour.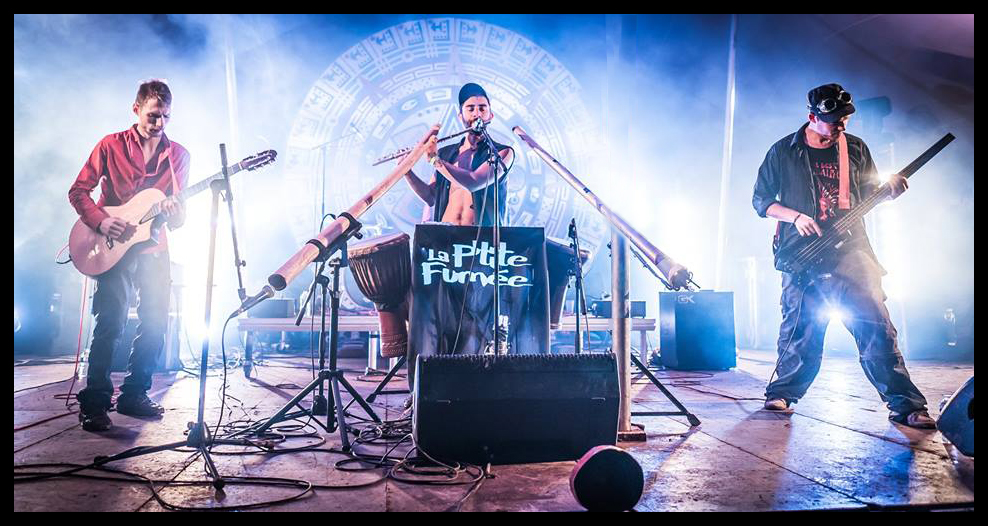 Q: What are your musical influences?
A: Of course our style is influenced by 'Hilight Tribe', we love what they do and we meet from time to time. We also appreciate some DJs that have a tribal style, Vini Vici, Belik Boom… More widely, we are 4 friends with our different universes, with different influences like Techno, Reggae, Dub, Gipsy, Batucada and so on… And of course a lot of people influence our tracks, from our travels and meetings…
What brings us together is the bass, kick, good humour and party!
Q: Future plans?
A: We have a big tour in 2018, preparing a new light show and new tracks. A few big dates have been confirmed and will be announced shortly… And besides we are also working on the 3rd album which will come out in 2019. We are also looking at some collaboration to remix tracks, and quite open to propositions on this subject. We would love to play in the biggest festivals and we are working towards that.
So basically work work work and enjoy the moment.
Many thanks to Sarah and you Trancentral for this interview. See you on the road & Rave on !