Magazine
Psytrance in China  - The story of an expat DJ who started Psytrance in the Middle Kingdom
Psy in China  - The story of an expat DJ who started Psytrance in the Middle Kingdom
By Philipp Grefer. 
While I was researching about the History of Electronic Music in China for my article, I stumbled across the name of a bar in Beijing with the rather interesting name MAGIC MUSHROOM. I was also well aware of the growing popularity of psy-trance parties around China, thanks to my meeting with "Psytrance Pete" aka. Atoned Splendor circa 2011. While I still haven´t been able to unlock the mystery of the MAGIC MUSHROOM bar, Pete, who was studying in Beijing in 2004, and now runs GoaProductions down in beautiful Yunnan put me in touch with the first psytrance purveyors in the Middle Kingdom Vincent Kodama and DJ Solaris. Below is Kodama´s story and that of psytrance in China. It is worth mentioning, that this is a brilliant read even if you are not into psytrance.
Without further ado: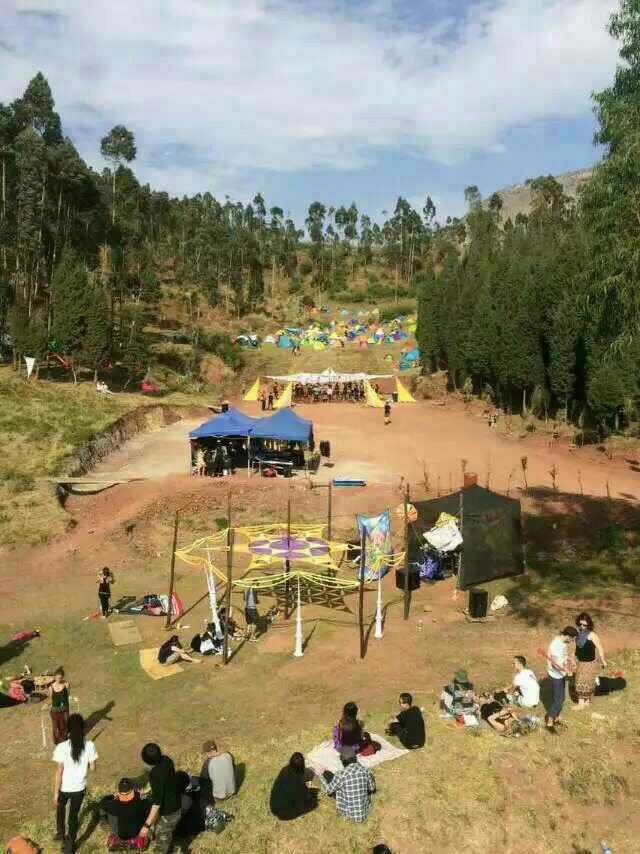 I was in Qingdao for my year abroad as part of my 4 year course reading Modern Languages — Chinese with French at the University of Westminster in London. That was 2002. Only clubbing was local Chinese 摇头 (literally means shake head) clubs. If you were high enough there were some half decent tracks in there but on the whole is was just craptacular techno remixes of Chinese pop songs. Fortunately I met some people who were trying to breathe some life into the scene, some of which are still dear friends.
One was Colin, a worldly wise Baton Rouge native, who turned the stale Corner Jazz Club into the place to be in town. I helped him to put on a DJ night where I played commercial stuff…until 4 am when we locked in the regulars and I played psytrance. No one was a particular fan but everyone was too wasted to care.
David was a Frenchman who had a bar called Les Bains Douches — like the Parisian legendary locale — in the old part of town. He hosted an outdoor "rave" for the expat community in some sort of amphitheatre in a sculpture park. Imagine 200 foreigners dancing to techno, elektro, D&B and psy trance, with about three times that many local farmers and villagers (Qingdao, regardless of its size and development, was still at that stage) gaping at us from up above. Fun times.
Fast forward to 2004 when I landed in Shanghai for one more year of studies…which turned into a decade…and what a decade it was!
I immediately started going out in Shanghai in the old haunts — Buddha Bar, Rojam, California Club, Guandii — all of them now defunct, happily…apart from one: DKD stands for decadence kills depression. An underground concrete basement with strong drinks, a killer soundsystem and amazing global DJ's one weekend and local talent the other. Music policy was mainly house and techno but they strayed away from that occasionally. At this stage I was riding the 老外 (foreigner) DJ wave in China, travelling across the country to 4th tier buttfuck nowhere towns with glitzy new clubs serving Chivas and green tea to dice playing farmers with money and small time mafia types in shiny shoes and with terrible hairstyles.
There I played more progressive psy, 130 BPM range 80% of the time. Usually I was asked after ten minutes to "play more high" because the crowd couldn't handle a breakdown of more than 8 bars. So I played 145 full on psytrance. Did I have any 摇头 perhaps (see above). We generally came to the agreement that perhaps the crowd wasn't ready yet, I got my money and 小DJ took over, threw on blue Eiffel 65's Blue to show he too had foreign music and the dancefloor went from three people to rammed.
Never ever have I been skanked by a promoter though (sure, they made stupid amounts of money from the clubs and gave us fuck all, but we were young and happy to play for what we got…but that's another story.) Always got paid, even if I played five minutes, which can't be said of all my peers at the time.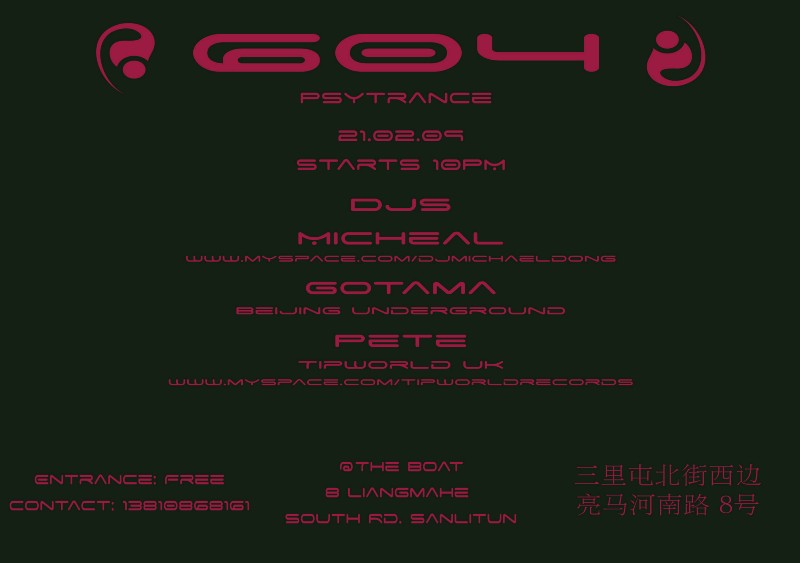 This journey lasted a good two years, before clubs caught on that the local DJ would play six days a week for seven hours a day and play what the crowd wanted, for half what the promoter charged for me. And also a white face became less of a novelty. Others rode that wave a lot longer, as they played breaks and house and stuff more attuned to the local crowd…but I stuck to my principles.
Having said that, some clubs — like SOS in Hangzhou, Cinderella in Nanjing, and some clubs in Chengdu, Dalina and Yanzhou — Iforgot the name off — couldn´t get enough of me and asked me back regularly…they had the good luck of having in house DJ's that dug deep and loved their techno or house and had educated ther crowds. Kudos to them.
Anyway, i digress. So with this "China international DJ" experience under my belt, I thought I could waltz up to DKD and they'd let me play. Not so. In the meantime I threw one small party myself, my first proper one actually with my money, art direction, promo etc, at Madam Zung. Spent 1500 RMB on deco, charged 30 at the door, had 40 odd people, so lost money, but it was fun and a good lesson.
After badgering DKDs incredibly talented in-house DJ Matt for six months to play, I finally got my chance at their Nu Party. Here 20 locally based DJ's got to play three tracks each, and the best two got a full slot the following weekend. Not sure how they measured who won, but I managed to bag one of these slots. At that party James — DJ Solaris — was there, and he had been doing psytrance parties in Beijing as MAGIC GARDEN. Long story short, I joined Magic Garden (together with japanese DJ Yuta) and we had a fantastic ten year run in Shanghai doing some of the most memorable parties the city has ever seen, including two years of Full Moon parties (each and every full moon, regardless of what day) at dkd.
A three year residency at G+, anniversary parties in art galleries, an office block lobby, a defunct abattoir (1933), and all the clubs in town like Shelter, Dada, Shiva, etc. We also hosted three years of psytrance podcasts on udance and brought over a many international acts.
We brought UV lights from Germany, deco from Bali, Thailand and Mexico, set up professional lycra deco, sometimes had poi performers and a little stall, and of course the most up-front music from across the globe. We were the first to create a fully immersive psychoactive environment in many cities around China and surely exposed people to something they had never experienced before. Now of course, there are many more outfits that are pushing the envelope so much further; GoaProductions being one (and of which I am proudly part now) with the first and only Chinese Psytrance label, doing music production courses and festivals on our own land, the pristine 200'000 square meter Spirit Tribe valley in the mountains in Yunnan, or the yearly Shalanaya festival in Zhujiajiao.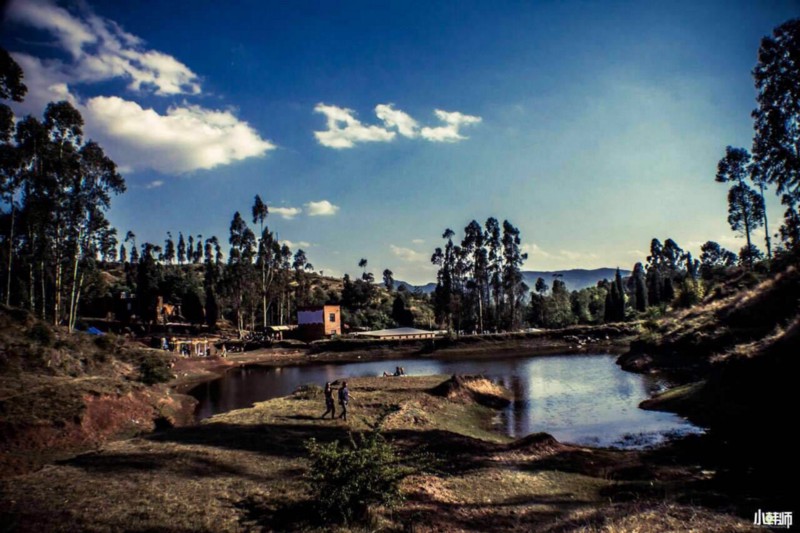 But Magic Garden can, I am pretty sure, take the honour of having brought psytrance to a wider audience in the Middle Kingdom!
* The author runs music & creative agency FakeMusicMedia which is organizer of NEU.