Open Source is not your usual psytrance producer. He's determined to do things his own way, doesn't seem to play the game by the rules, very open about his career, sees no problem with making psytrance commercial, and seems to couple an "I don't give a fuck" attitude with extreme confidence, bordering arrogance at times, in what he does and almost zealous dedication to his music. We had a chat with him about his new album and his music. And you can listen to it inside too, as usual.
While you read the interview why not listen to this special live set from Open Source:

Q: Who is Open Source ?
A: Open Source is a guy that makes music for more than 18 years and intends to change what the globe thinks of PSYTRANCE. My name is Aggelos Mavros, I come from Athens – Greece and I strongly believe that PSYTRANCE is not for minority but for ALL THE PEOPLE. Every music can be converted to PSYTRANCE and backwards.
Q: Why did you choose that name to represent yourself ?
A: Unlike most other producers, I didn't start as a DJ. I started as a gw-basic programmer & a red-hat linux beta tester. "Open Source" is a movement that has to do with releasing software in open format so every programmer can see the source code and improve it. I also enjoy sharing knowledge with the people and that is why I call myself "Open Source".
Q: Do you remember the first party you went to? Can you tell us about your experience?
A: Yes I remember. Sunday afternoon at a club called "Battery" in Athens. The year was either 1996 or 1997. Most producers state that their 1st party was a life-changing experience but my 1st party was nothing special. Just a dark, spooky old warehouse were teenagers who took drugs and heard crazy music.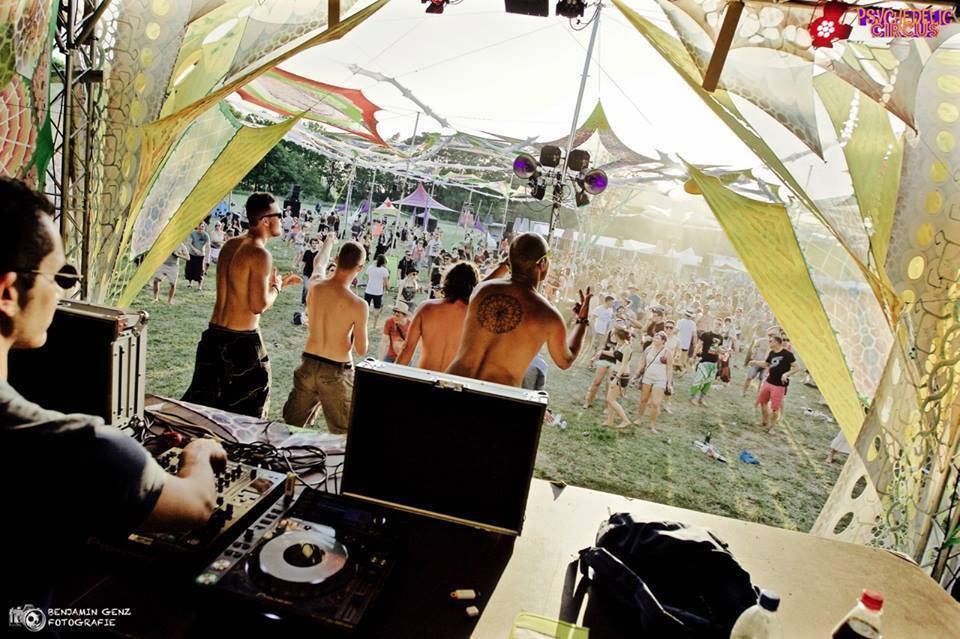 Open Source @ Psychedelic Experience Festival.
Q: Tell us a bit about your journey from that party to become Open Source
A: Well, around the year 1997 there was this new trend they called "psychedelic trance music". At that time, computer revolution had a great impact on our lives, and that brought me to the conclusion that this kind of music was probably produced by a stand-alone home computer. No recording studio or instruments were required. Based on that belief, me and a friend of mine named Billy, e-mailed an established producer & asked him how he made his music. He replied to us with 3 words "fast tracker, soundforge". We downloaded those 2 programs and started making music. Billy died a few years later but I kept on making music. From 1997 till 2003 I used the nickname "Outsider" (You can find the tracks here). The project had no success at all. In 2004 I changed DAW, went from the DOS based programs called "trackers" to FL Studio. Computer evolution & the gnu movement influenced me to baptize this new project.. "Open Source".
Open Source made for Trancentral a playlist with some of his favourite tracks from the last few months, enjoy:
Q: You release your music yourself, on your own label, almost exclusively, and choose to do things in unusual ways at times. Tell us about why you chose to do things this way.
A: That is correct. I do indeed things in an awkward way. If you take a notice the tracks of the new album are so different from each other. Most people would advise to follow a specific identify when making music. But through the years I managed to imprint my own musical identity on every different style of psychedelic trance. I remember, the first years in production I applied to enter the big labels. All of them rejected me one by one. My passion for music was uncontrollable and I had to release my outputs. Beatport, youtube and facebook did not exist back then. The only way to release was to create physical CDs. And that's what I did. In 2005 I founded Ghost Label Records along with two other guys and we created our first CD compilation. After that I worked with all companies of the scene such as Psyshop, Arabesque Distribution, Saikosounds, Mushroom Magazine, labels, forums, portals, promoters etc. Till 2013 nobody knew me and nobody was interested in me. Nobody paid attention and all doors were closed for me. Suddenly that changed (thank God). The last 2 years a lot of people are interested. I can see their support & respect on the messages they send me. But get one thing straight, nobody ever helped me. I made everything possible with my OWN BALLS.
Q: New album – tell us about it.
A: "Indian Calling" is my 8th studio album. An extremely varied album with lots of transfixed vocals, natural drum-sets, advanced psy-tech grooves, melodies seamlessly interwoven with my melancholic mood and of course, a touch from the East. The album calls for unification of most psytrance styles.
Listen to the whole album here: 
Q: Can you describe to people what is the musical direction of Open Source.
A: Musical direction? Hmmm.. I intend to shock the world by releasing 2 albums every single year. How will I do that? By working 10 hours a day, having no wife and no children. All I see in front of me is music. Fuck everything else. Married to music. Till death do us apart[y]. The "Open source" project will eventually (maybe 10 years later) be loved by the whole world. Because I don't just make music, I put MY HEART in it. I struggle to make emotional triggering melodies, not just make a big groove for kids to jump around. And I strongly believe that at the end .. melodies WILL WIN. Melodies always win.
Q: Since you started writing music the Greek trance scene has through a lot of ups and downs. How is it these days and how does that affect Greek trance artists?
A: I don't communicate with Greek artists and Greek artists don't communicate with me. They've never booked me for a live show in my country. Does this ring a bell?
Q: Future plans for Open Source?
A: When a man plans God laughs. Therefore I make no plans. I formulate brilliant concepts instantly.
Q: Your message to the world?
A: Follow your dream, listen to none, work harder, try harder, TRY HARDER!