Zion604 special: New compilation & an interview with Shidapu
Zion604 special: New compilation & an interview with Shidapu
Acid Disco is a unique release that sounds a little different than most of the new releases in the scene. It features pure old-school sounds and vibes, that really takes us back to the Goa days f the mid 90`s. We wanted to know more about it, So we grabbed label boss Roy Sason (Shidapu, The Square)
Zion604 released "Acid Disco" compilation. The compilation, released late in Fab. 2016, was compiled by The Square, a fresh collaboration between Roy Sasson, "Shidapu" and Maor Hasbani (Skizologic). "Acid Disco" as the name indicates, revolves around a main theme- Acidic, Old-School Goa trance.
All the tracks in the compilation feature fat square baseline, together with some acid resonances, which are  recognized with the epic TB 303 synth. The Roland TB 303 synth has a unique resonances sound, that was nicknamed acid, and later became an integral part of the language in the trance scene.
The compilation features an exciting remake of one of the most known tracks of the 90`s,  "Space Cat – Kreak". For those of you that danced to this tune back in the days, the lead that comes in around 1:46 minutes in the track will give you goose-bumps. We felt it, and we sure you will too. The compilation also feature tunes by LOUD, 2 Minds, On3, Libra, and The Square them self.
Listen to it:
The unique Acid sound of the compilation intrigued us here in Trancentral, so we decided to find out more about what stands behind it. We had a long chat with label boss Roy Sason, aka Shidapu and half the duo The Square, who compiled the compilation. Roy, who was part of the original cast of Shidapu (that was formed back in 1994, and included Erez Eizen of Infected Mushroom, Miki Litvak, Oren Kislev & Roy himself), talked with us about the Zion604, the labels name, his musical style and agenda.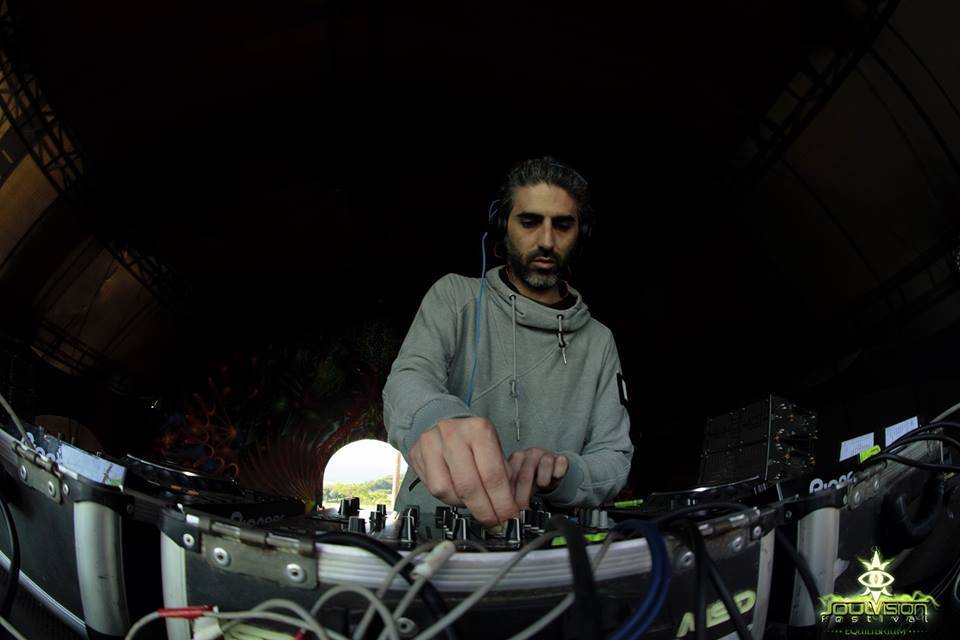 Roy Sason, Shidapu @ Soulvision Festival Brazil
Here is Trancentral`s interview with Roy Sason:
Q: Your label Zion604 is not an ordinary trance label. tell us a little about it, when did you start it? what is the concept behind it?
A: Zion 604 is a 4 years old dream that came true for me after many years of involvement in the trance scene. It all started when we felt the need to preserve the old school music we had collected through the years. The concept is to release an unreleased music from the golden times of the trance music, along-side with releasing a now-days music which has the same colors and vibes like the in old times.

Q: What's the meaning of the name Zion604?
A: A lot of people asks us about the name, so now it's a great opportunity to explain… The meaning behind the name shows the true concept of it: Trance from Zion, from Israel. The number 604 reminds us the letters GOA. We are big fans of the old true Goa music that you could actually hear in the beaches of Goa between 1994 and 1998. For us, it's a simple tribute with a true meaning.

Q: Is it true that Your label releases old unreleased/archived tracks of famous Psytrance artists?
A: In our label you can find DJs with 20 years and more career which has a huge archive of released/unreleased materials on DAT cassettes. Artists like dj Asherun has the music and the private connection to many well-known artists from the 90's. That fact helped us to release music from artists like Atmos, Subcouds, little blue men, Miranda, and many more. Besides that, we released many great names like Eat Static, Doof, Cosmosis, Psychaos, Union Jack, Shakta and so many other great names with great music. We also had the honor to release deviant electronic's unreleased album from the late 90's which became a huge success and got ranked as one of 2014's best trance albums for old school music.

Q: Tell us something funny/ interesting about one of your releases
A: I think the funniest thing was to see ourselves trying to bring the first album to print… Me and Stephan my partner had a short time to collect the money was needed to produce the album so we found ourselves doing many funny jobs in order to cover that… We tried to spend less money on the physical produce, so eventually me and Stephan spend few days on putting the papers of the cd into 1000 jewel boxes. Eventually, that was our first and most special album. After that, we tried to be more and more professional with production methods but still I will never forget all the funny moments of making mistakes and learn from them.

Q: Your cover artworks look original, is it all made by one artist?
A: We do work with several artists on the graphics, each for different project (digital / physical releases, technical support). Above all of them, the guy that was behind all of our graphic ideas and concepts is Oron Aiche, known as Oronimation. He also did the brilliant logo of us and 11 physical album graphics. We can easily say that Oron's style is what makes the Zion style. I would like to use this spot and thank him many times for this psychedelic point of view he gave us.

Q: Are you connected to Suntrip records in any way? you guys did a party together with them last month, tell us about it little, how was it?
A: When we opened the label, my model was Suntrip record. Beside that Joske is my friend for years and the guy who booked me as Shidapu for the first time in Belgium – he is a true professional and a great dj and label manager. You cannot argue with success and today Suntrip is the leading label for old/new school music for more than 10 years already. We did a party together at tel aviv which was a huge success, together with many great names from the local scene and 2 UK stars: dimension 5 and lunar Asylum . In April 2016, we meet again in Belgium to our next collaboration with Suntrip, Old Is Gold party which will host Zion 604.

Q: Is producing label parties is a part of your agenda? 
A: Agenda is sometimes very flexible thing. When we started, we didn't goal to this target. We only wanted to spread the music. The change started when the label became more and more popular and created a demand. In our days, it's not possible to cover the product's value only from physical sales so making label parties helps us to stay alive as a label and also gives a meaning to the artists we represent.
Space Cat dropping his remake to "Kreak" on Zion604 stage:

Q: You always print your CD's and sell them at your parties. some say it's the best way to sell Psytrance CD's in our days. what do you think?
A: Our main agenda is to spread the music. In order to fulfill that, we sell the CDs in parties at a discounted price, in order to give the customer the best experience: hear the music and buying it if he likes it. It's the best way for us to reach the main source of our fans and customers.

Q: Your label is considered Underground/ Boutique which is kind of rare in psytrance. How much is it important to you to stay in the underground? 
A: We started the label as a boutique one, with no pre-thinking about being commercial. With the years, we started to understand that in order to survive and still make what we love – we need to be less underground, but not in a way that will break the true concept of the label – good trance music with a strong initiation to the old school roots.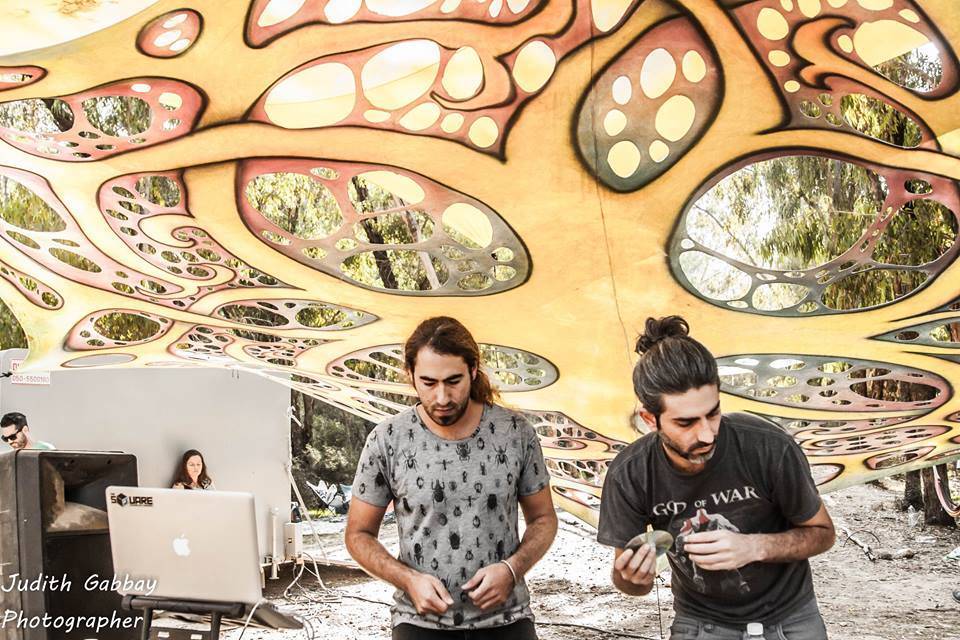 The Square @ work

Q: Tell us about your new project The Square? Why did you call it like that and what's the idea behind it?
A: The idea behind that project relies on the same sources of the British Old school Of the 90's. Sound simple yet sophisticated, comfortable and fat synthesis in an impressive manner.
Square wave motion of the particles is a quadratic power, combined with a constant pulse. Combined pulse wave movement creates a super fat bass dimension, identified with trance music specifically and electronic music in general.
The incarnation of the machine TB 303 on its variants, has created a very strong correlation with trance music. The unique resonances sound of the instrument was nicknamed Acid, which later became an integral part of the language in the trance scene. For us, this square wave is pure acid. Disco-Acid.
Check out Roy & Maor set @ Desert Adventure party:

Q: Tell us about your new compilation. what's the idea behind it?
A: For me, this compilation can be the true future of the Psyschool scene in Israel. It was compiled by me and Maor as the square and it feature 9 stunning tracks from the likes of THE SQUARE, ON3, Skizologic, Libra, Union Jack, Loud & Domestic, 2 Minds and more. The concept of this album was to compile a track list which I feel the new age of Zion 604 music, to showcase the talent of a genre I'm incredibly proud to be part of. An edition of 500 cd copies was printed in order to keep it more boutique.

Q: As active producers in our days, and disciples of the 90′ sound, what is your approach inside the studio? where do you find the balance?
A: Back in the days, it was a hard mission to plug a true analog studio. With nowadays abilities and magical sequencers like Cubase or Ableton – it's much more easy to feel the analog vibe in your studio (if you have the proper equipment of course). You can see today a lot of digital based clones of the old great synthesizers. For me – it shows that a legacy must be preserved like we do with the music we release.